Chef Andi Van Willigan is the very embodiment of grit and determination. Her audacious ambition, competitive drive, and industry knowledge have shattered glass ceilings throughout her extraordinary career. She is best known as Chef Gordon Ramsay's former Executive Group Chef in the U.S. for nearly nine years, assisting in restaurant openings internationally and appearing in shows like Hell's Kitchen, Kitchen Nightmares, and others. Now in her new role as Sysco Culinary Specialist, Chef Andi will be helping Sysco customers thrive in their business.
Born and raised in California, Andi grew up preparing meals for the family with her father. "We were a working-class family, so my dad would just do the best he could with what we had," she explains. "My biggest memory is when… he would make me smoked lavender chicken. If I die, that would be the meal that I'd want to go with. [It's] kind of home for me." Although she knew that a culinary career was in her future, her father was adamant that she earn a college degree before entering culinary school. Honoring his wishes, Andi graduated from California State in San Marcos with a degree in Business, before heading to Le Cordon Bleu College of Culinary Arts in Los Angeles.
In 2002, Andi began formal training at the Boston Culinary Group, where she also learned to thrive under pressure. "I worked with a chef that was very brutal," she recalls. "She made me cry every single day [but] I would never let her see me cry. She really toughened me up." Chef Andi would need that mental toughness to overcome the struggles of being a female chef in a male-dominated industry.
While diligently working her way up at a highly acclaimed restaurant, Chef Andi suddenly hit a glass ceiling. "A sous-chef position opened up, and I asked if I could apply, and the chef [at the time] told me he would never have a woman be a sous-chef in his kitchen." That chef might have been dismissive of Andi's skills and abilities, but Corporate Executive Chef Anthony Carron recognized her talent. "I was about to leave and then [Anthony] came to me and said, 'You know, I think you should really stick in, I think you're really great."
Determined to realize her full potential, Chef Andi set her sights on a more ambitious pursuit within the Michael Mina Restaurant Group. "I knew they were starting to open restaurants, and they needed a task force, so I was bugging [Anthony] non-stop [with] 'I wanna go, I wanna go… I can do spreadsheets and costing, plus cooking.' I felt like I was more well rounded than some of the other cooks there, so he took a chance on me." Her moment of truth sent her to Las Vegas to open Michael Mina's latest restaurant, Strip Steak.
Chef Andi fully embraced the opportunity to prove herself and flourished under pressure, knowing that she had everything to gain or lose. As she recalls, "Anthony threw a bunch of stuff at me, and I had no clue what I was doing, but I just figured it out. I inventoried all of the OS&E (Operating Supplies and Equipment), I developed the menu with the chef, I hired and trained the cooks, and then basically opened the restaurant and made sure everything was okay."
It was then that Chef Andi discovered a love for directing and implementing systems for new restaurant venues – a role worthy of her skills and talents. After the successful opening of Strip Steak, she swore to never return to her former position as a grill cook. "It was a bit ballsy [but] I went to Michael Mina and said 'okay, what do you have next for me, because I'm not going back to [the restaurant].'" True to her word, she never did. That day Michael Mina promoted Chef Andi to the Executive Corporate Sous Chef position. In the next four years, she traveled the nation, opening 11 more restaurants until one life-changing day.
"We did a project in the Borgata called SeaBlue [where] Gordon Ramsay was filming Hell's Kitchen," says Chef Andi. It was there that Chef Ramsay's talent agent approached Anthony looking for a replacement of Gordon Ramsay's sous-chef. As Andi recalls, "[Michael] put me forward. [I then] had a meeting with Gordon at the Four Seasons in Las Vegas. The next thing I knew, I was on a plane, and on this T.V. show." Chef Andi had no prior knowledge of Chef Gordon's show, Hell's Kitchen, and had no idea what to expect being thrust onto a nationally televised cooking show. "I just said, okay, I'm a sous chef for him, and I'm going to do my job like normal. I'm really competitive, so I was making sure that my team was 100% complete and ready to go."
After completing one season on Hell's Kitchen, Chef Andi returned to opening restaurants with Michael Mina, until the day Gordon Ramsay called to ask if she was interested in a role on a show called Kitchen Nightmares. Her response, "no problem." Soon after, Chef Andi was traveling to shoot the show and bring her skills to the Gordon Ramsay empire. "I treated each episode [and] each restaurant like a mini opening. I would do an order guide, a prep list, [and] a total blueprint of what that restaurant needs to be successful."
After the show wrapped, Gordon Ramsay offered Chef Andi a life-changing role as his trusted Executive Group Chef for the United States. She would now be opening restaurants for Gordon Ramsay nationally, and overseeing all U.S. culinary operations under his brand. Andi, who had once been denied a sous-chef position on the basis of gender, was now an Executive Group Chef for one of the most notable chefs and restaurateurs of our time.
As if overnight, Chef Andi was thrust into a dizzying schedule filled with restaurant openings, travel, and filming. "We'd be opening a restaurant one day, developing kitchens… and doing a whole concept, and the next five weeks we'd be filming a show. I was [Gordon Ramsay's] right hand in the U.S., so anything that went on in [the states] I did. Over the next nine years Andi's notoriety grew with the rapid pace of her schedule. "I oversaw Hong Kong and Canada, and opened a bunch of restaurants in the U. S." "I did Season six through seventeen of Hell's Kitchen, three seasons of Kitchen Nightmares, two or three seasons of Hotel Hell, a couple of seasons of Master Chef, and Master Chef Juniors."
Andi's career was on a high, but the demands of her work schedule, and her upcoming marriage to now husband, Brice Cutspec, brought her to a crossroads. "I was traveling probably 270 days out of the year, and I just was done." By 2015, she decided to discontinue working with Gordon Ramsay to pursue her next great adventure of starting a family. Her next role would need to offer the opportunity to do what she loved, while also providing the freedom to spend time with the people she loved.
Later that year, Chef Andi began working at Bel-Air Country Club but felt like something was missing from the role. "Although I really loved the job, it was just very, very small for me." Andi moved on to become the Executive Chef and Senior Director of Outlets at Ocean Reef Country Club in Key Largo, Florida. While there, she oversaw 23 restaurants and had approximately 15 Chefs de Cuisines under her management. Although Chef Andi had found a job she loved, a tragedy brought on a new perspective that would redirect her career once again. "I was about five months pregnant [when] my father passed away. It was very sudden, and I just kind of opened my eyes." Andi was thousands of miles away from family and once again working long hours, missing time with her children that could never be reclaimed. She decided to return to California in pursuit of a new role.
The stars seemed to align for Chef Andi once again when a Culinary Specialist in L.A. told her about an open position with Sysco. As of December 2020, Chef Andi is now part of the Sysco team as a Culinary Specialist for Las Vegas. "I'm happy to be with [a] company that's [been established for] 50 years and has a lot of longevity, and a lot of senior people. It's a little niche that I haven't done before, but I'm able to definitely take what I have done and apply it."
As a Culinary Specialist, Chef Andi offers Sysco customers a wealth of experience and the same skills that got Chef Gordon Ramsay's attention. The foundation of her career has been supporting others through education, resources, and support – making her new role with Sysco the perfect fit. "Being able to help restaurants succeed and being able to teach and maybe mentor a little bit drew me to [this role]. That's what I've always loved to do. I probably could have totally pursued the T.V. side of it and gotten an agent and all that kind of stuff, but to be honest, I'm kinda shy. I'm not gonna ever be this famous chef, but what I could do is I could make an impact on people, and that's my satisfaction. That's what I wanna do for my career."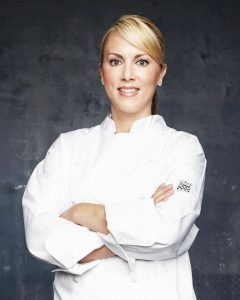 Chef Andi's words of encouragement to aspiring chefs are "work hard, stay true to yourself, and speak up when you want something." Being a chef is a challenging job, and being a female chef is an even greater obstacle. Chef Andi credits her parents for instilling in her the grit, drive, and determination that has driven her career and supported her in overcoming those obstacles. "You can't learn how to hustle and how to have initiative… I think it comes from you being raised a certain way", she says. "I appreciate that they showed me that…and I got to where [I am] because I pushed and I wanted to always be better and do better." Chef Andi was also given invaluable support and wisdom along her journey from mentors like Giovanni Melis, VP of Food and Beverage at Ocean Reef Club, and Chef Anthony Carron.
Andi is excited to join the Sysco team, and eager to begin working with customers to positively impact their businesses. "I'm most proud when I put a lot of energy into someone, and they do really well in their career," she explains. If anyone can help restaurant operators succeed, it's Chef Andi.