Chef Hugo Ortega is the executive chef and co-owner of not one, not two, but four of Houston's top restaurants: Backstreet Cafe, Hugo's, Caracol, and Xochi. He is the winner of the highly coveted James Beard Foundation Award for Best Chef: Southwest, an honor bestowed on him after six consecutive years as a finalist. Chef Hugo is a prominent figure in the Houston culinary scene, a globally recognized chef, and the epitome of the American Dream.
Houston By Way of Mexico
Ortega's journey began humbly in Mexico City. "In Mexico, we have a saying, 'If you're born poor, you'll die poor,'" he recalls. Unwilling to accept such a reality, Ortega made the fateful decision to hide in a freight train and cross into the U.S with little more than a hope for a better life.
In 1984, at the age of 17, Ortega found himself an undocumented immigrant living in Houston, Texas. In the beginning, it seemed that the odds were no more in his favor in the U.S than they had been in Mexico. At the time, Ortega spoke no English and had no job. He found himself homeless after his cousin with whom he'd been living relocated. Nevertheless, he was unwilling to wake from his American Dream and maintained a positive outlook.
Soon his hard work and positivity would pay off when in 1986, Ortega became a legalized immigrant through President Ronald Reagan's amnesty program. That year he would also take the job that would change his life. After being hired as a dishwasher at Backstreet Cafe, Ortega enthusiastically worked his way up to busboy and then grill cook. Backstreet Cafe Owner, Tracy Vaught, saw tremendous potential in Ortega and encouraged him to attend culinary school to refine his natural abilities.
By 1992, Ortega graduated from the Houston Community College Culinary Arts Program. Three years later he assumed the role of Executive Chef at Backstreet Cafe. Chef Hugo experienced another exciting life-changing event – he and his former employer Tracy Vaught were married. The couple has now been married 26 years and has amassed an impressive empire of critically acclaimed Houston restaurants. They also have a daughter, Sophia Elizabeth.
Grandma Delia
Throughout the years, Chef Hugo has always credited his Grandma Delia as his most influential culinary figure. A highly revered mole maker in Mexico, her influence can be seen in many of Chef Hugo's menu items. Although he has many fond memories of his grandmother, one particular experience stands out.
"I was 9 years old. I was born in Mexico City, but I went to live with my grandmother in one of the regions of Oaxaca. The market would come once a week to a little village. On one occasion, she bought these pod seeds. They were about half an inch in diameter, and I remember her toasting these pod seeds in a clay comal, and she was quite devoted to making sure that every seed gets very toasted. I remember thinking, 'what is this?'
"She told me, 'it's chocolate,' but you know, I had never seen chocolate like that in a seed. At some point, she [asks me], 'would you like to try it.' I said, 'yes, sure.' So she took a little sample on her finger and put it on my tongue, and I remember telling her 'grandma, I don't like chocolate.' She just laughed, and it was the first time I saw her laugh because she was a very serious conservative person. That is something that I will never forget."
Now Chef Hugo is a big fan of chocolate, an ingredient loved in Mexico and often used in sweet breads, beverages, and of course, moles.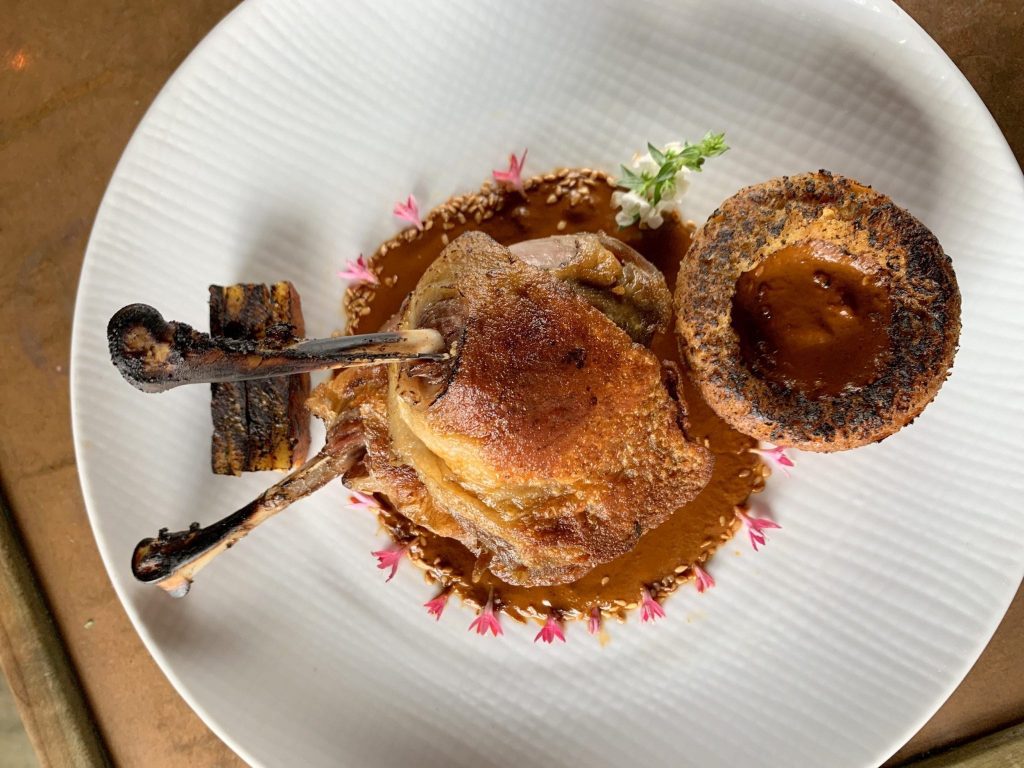 Mexico on the Menu
The rich culture of Chef Hugo's homeland is the muse that has inspired his entire culinary career. Each of his restaurants provides a savory haven that brings to life the flavors of Mexico's diverse landscape.
Chef Hugo's namesake restaurant Hugo's offers authentic regional Mexican cooking that adheres strictly to tradition to make everything from scratch. In 2000, Chef Hugo took a trip to Oaxaca to visit his family and rediscover the ingredients in his homeland. He recalls how the goal of the trip was to "get acquainted with the wonderful countryside, the ingredients…and soak in everything I could during that trip." Hugo's menu features traditional dishes from various Mexico regions and includes cheeses, moles, and tortillas.
Xochi is the city of Houston's first upscale Oaxacan restaurant and takes diners on a deep cultural dive into the rich indigenous flavors of Oaxaca, Mexico. Caracol is inspired by Chef Hugo's fond memories along the Mexican coastline, like eating ceviche in Playa del Carmen and dining on oysters in a fisherman's home. The chef and his wife, Tracy, are investors in Origen restaurant located in Oaxaca, Mexico. The restaurant offers a contemporary interpretation of traditional Oaxacan ingredients and recipes.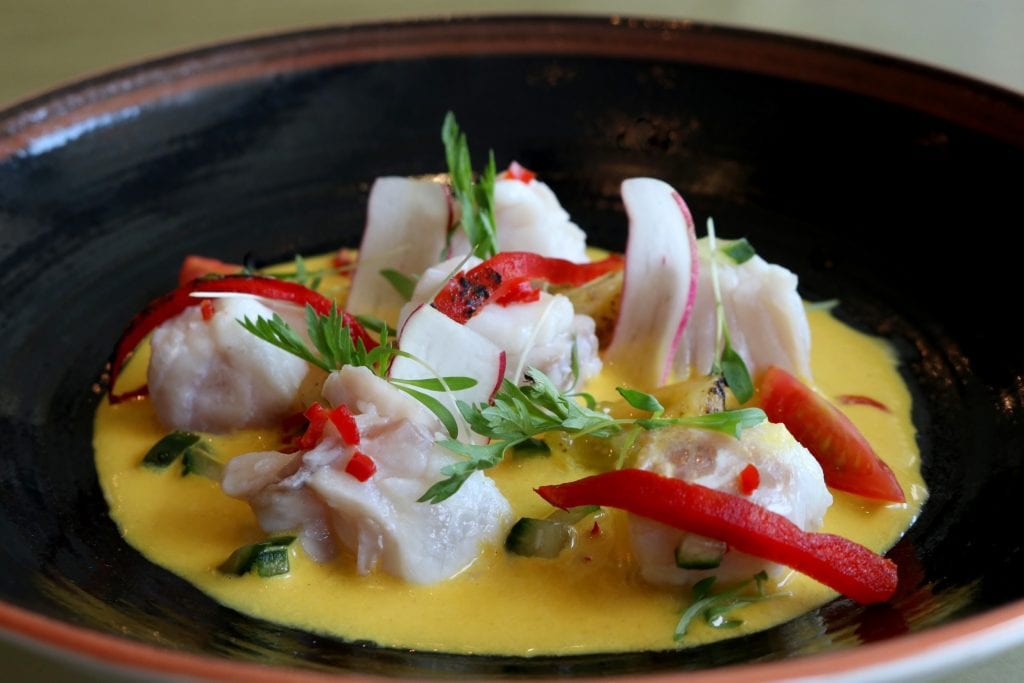 Over the decades, as Chef Hugo and Tracy have expanded their restaurant empire in Houston, Sysco has been along for the journey. When asked about his relationship with Sysco, he recalls, "We go back over three decades…going close to four decades in the case of Backstreet Cafe. That's where I met the first salesperson because, at the time, I was the person placing orders. It's been a great relationship. We have grown together, and I am proud to say that we have been friends for a long time."
Chef Hugo has come a long way from being a dishwasher at Backstreet Cafe, but the recent pandemic has challenged even the most seasoned chefs and restaurant owners. "We have a huge task in front of us," he says. He hopes that Houstonians will continue to support their local restaurants now and in the days to come as we all adjust to a new normal.
Chef Hugo remains committed to cooking with passion and supporting his team no matter what challenges lie ahead. "When you look at this as a business, it's about your co-workers, they can be 20, or they can be 40, or they can be 100 – it's about this group of people, this team. It's not about me. It's about [ensuring] that these people working along with me, believe that we can do a wonderful job, day in and day out."
If you're ever in the Houston area, be sure to stop by one of Chef Hugo and Tracy Vaught's critically acclaimed restaurants to experience the authentic flavors inspired by Ortega's home country.