Will and Catharine Newman are the founders of Edley's Bar-B-Que, located in Nashville, Tennessee. The restaurant named after Will's grandfather, Edley Newman, is a tribute to all things Southern. In a city nationally renowned for barbecue, Edley's is an institution and the four-time winner of the Best in Bar-B-Que award from the Nashville Scene Reader's Poll. Since 2011, the restaurant has continued to innovate and expand, despite unprecedented challenges along the way.
A Tribute to All Things Southern
Edley's Bar-B-Que is more than a neighborhood restaurant, it's a family legacy. When Will Newman opened the business, he set out to create a place that emulated his grandfather's love of people, family, and community. Chris Beckler, the President at the restaurant, explains, "[Edley] had a history of giving and caring in the community. That's really what Will wanted to name the restaurant after."
Edley's Bar-B-Que has four locations throughout Tennessee, a far cry from the premier restaurant that opened on a lonely block in the neighborhood of 12 South. "[Back] then Edley's was one of the first and only things on the street," says Beckler. "There wasn't a whole lot around. Today it's a good retail and restaurant area where a lot of folks come to visit. [Now] it's a destination area." Edley's Bar-B-Que hosts guests in a welcoming atmosphere with exceptional service. Many team members have been with the restaurant for years and call Edley's Bar-B-Que a second home, and see fellow team members and guests as extended family.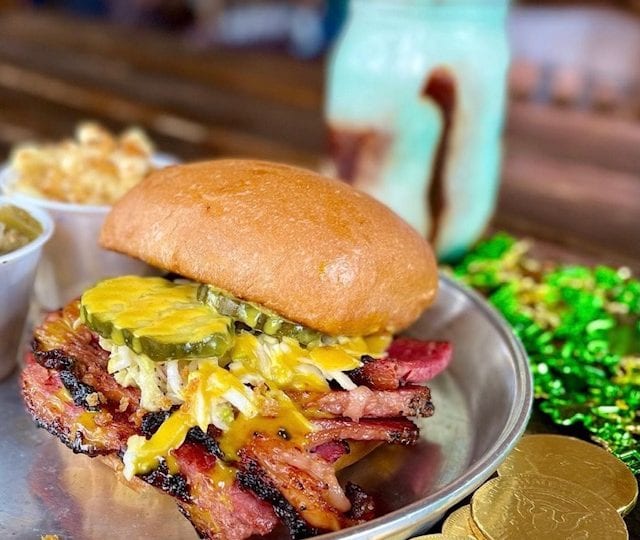 The standards for excellence are high at the restaurant, and evident in the award-winning menu. Tennessee is best known for pork barbecue, but as Beckler explains, their top-selling beef brisket provided tourists and locals alike an exciting alternative. "We're one of the few places in Tennessee that use prime grade brisket. It is a premium brisket product that we use that a lot of the places don't." Meats at the restaurant are smoked fresh daily, low and slow over White Oak wood to create a flavor that guests crave.
Edley's Bar-B-Que has perfected a highly desirable menu of side items that are just as noteworthy as its smoked meats. Beckler explains, "We put as much time and energy in our sides as we do our meats. All of our sides are scratch-made daily." One of the shining stars on the side menu is the mac and cheese. "We do our mac and cheese with a smoked Gouda and a little bit of nutmeg, so it's got a little bit of a different taste than your typical mac and cheese," says Beckler. "It [has] four cheeses, and the rue takes three to four hours to [make]." Another popular side item are green beans made with a homemade bone broth that is unique to the restaurant. Customers can also order banana pudding as a side item versus a dessert option.
Tough Times, Tougher People
When owner Will Newman established the restaurant in honor of his grandfather, Edley, he sought to build a business that exemplified the generosity, hard work, and Southern hospitality that his grandfather instilled in him. Those driving principles were on full display in the days that followed the devastation that Tennesseans experienced in the spring of 2020. On March 2nd – 3rd, Nashville and surrounding areas were devastated by deadly tornadoes that unleashed winds above 175 mph. Despite the trail of destruction that stretched for miles, the community rallied together, and businesses like Edley's Bar-B-Que were there to uplift the community in their time of need.
As Beckler recalls, "I've seen a lot of disasters. I've had restaurants in Jackson, Mississippi during Katrina, and I've been in earthquakes in California… but I had never seen a community rally around each other like I did in Nashville, Tennessee, a year ago. You couldn't get through the neighborhood because there were so many volunteers there with brooms and shovels, just picking up debris and helping each other. It was amazing! We wanted to give back as well, so we set up a smoker out on the street because our restaurant wasn't open, and handed out free pork sandwiches to anyone that needed it. There's a lot of folks that didn't know where they were going to sleep at night. We know we're part of every community we're in, and we want to make sure that we're partnering with that community when times are tough."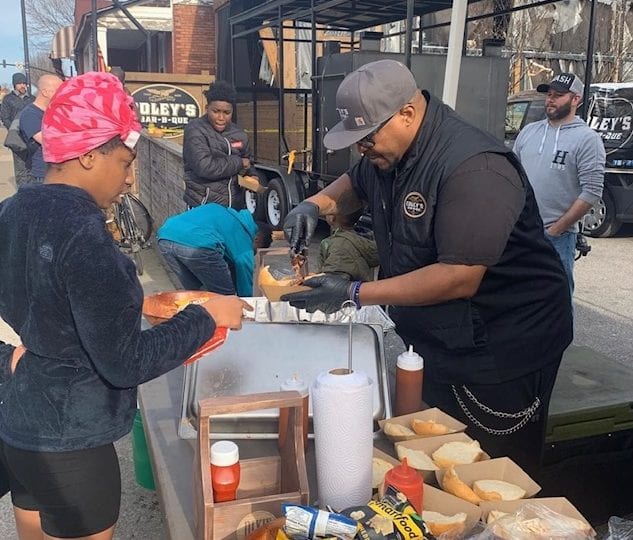 Like other homes and businesses in the area, the Sysco food distribution center in Nashville was completely devastated – disrupting the supply chain to Sysco customers like Edley's Bar-B-Que. "I'm sure they had thousands, or even millions of dollars of food and products in their warehouse that was no longer accessible to all the restaurants around Nashville, and obviously themselves," says Beckler. In a time of great uncertainty, Sysco's sister operating sites jumped in to help service Tennessee customers impacted by the tornados.
"They struggled, but while that was going on, they could not have been more supportive of what we were trying to do," Beckler recalls. "They're devastated and trying to figure out where in the heck they're going to get food from, and at the same time… [Brian Stover], who's our Sysco Representative, was immediately ready to help. We were donating to folks the pork sandwiches, and Sysco got us the pork. They got it donated, they worked to get chips and waters, and they had people from their company come out and help us hand them out. It was amazing! I've been in the business quite a while, [about] 25-30 years. One thing I've learned over time is that you thrive and succeed based on your partnerships, who you work with, and how [you] support others. People's character is revealed when times are tough."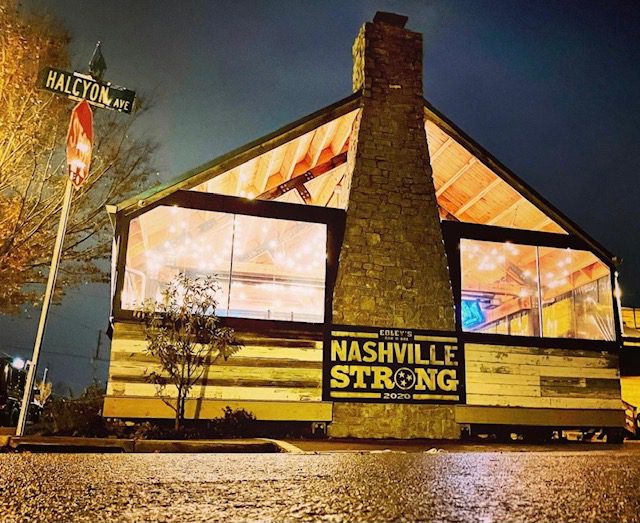 Just days after the tornados, the unprecedented Covid-19 pandemic dealt restaurants another devastating blow by forcing shutdowns and social distancing measures. As Beckler describes, "About two weeks [after the tornados], the Covid pandemic hit, and none of us knew what was going to happen. I've been part of bigger groups that have a hundred restaurants that can withstand things, but when you have five to seven, every dollar counts. It's personal at that point, so it's hard to withstand those types of challenges. We didn't know if we were going to be in business…we didn't know what was going to happen."
Despite the devastation at the Sysco Operating center in Nashville, customers like Edley's Bar-B-Que received the support they needed to survive during the pandemic. As Beckler recalls, "[We told] Troy Edwards, who was leading the branch of Sysco at the time [that we] needed help. He went out of his way to make sure we got everything we needed." To support the restaurant, several allowances were made to help customers, including the extension on payment terms for invoices.
"Those guys jumped through hoops for us, Brian in particular," says Beckler. "They had no food for us, and we have a lot of specialty meats like pork that's brought in specifically for us, brisket, and so on, and he did whatever it took. He was on the phone with me just about every couple of hours sourcing food for us and bringing it in on refrigerated trucks, and parking it in our parking lot from other places. While all this was going on…we didn't lose one item on our menu because they made sure we had it all. It was amazing. We survived and came out of this strong."
Despite the odds and unprecedented challenges, Edley's Bar-B-Que will soon be celebrating their 10-year anniversary and all the joy and memories they've brought to their Tennessee community. "One of the things we learned this year is just how mentally tough and full of grit we are," says Beckler. "We were able to adapt ourselves and our business to changing consumer demands."
Looking forward to the future, the restaurant has plans that will possibly revolutionize barbecue as we know it. "We're innovating a new Nashville-style of barbecue," explains Beckler. "We're trying to create a new category. Many people know Nashville's hot chicken, so we're taking the concept of Nashville chicken and merging it with pork, so it's a barbecue style that's full of flavor and has a little bit of a kick. It's something we're wanting to be known for."
Beckler and other businesses in the area are also looking forward to a safe return to normalcy in the year ahead, and the reemergence of travel across the country. "What we're looking forward to is seeing people coming to town again," he says. "We don't ever want to lose that neighborhood vibe, and the sense of community that we have, but if we can add some folks coming in from out of town on top of that, that would be really big."
Just as Edley Newman lived his life with great love for family, friends, and community, his grandson is now continuing his legacy through the restaurant that bears his name. In the tough times and the good, Edley's Bar-B-Que has shown its commitment to developing strong community roots with purpose, partnerships, and a passion for people. Beckler says it best – "If you have a reputation for being good, and doing good things, that's going to pay off for you. This is a relationship business. The more you are able to build relationships based on a great reputation, the better off you'll be.