Treat Your Guests
For many consumers, the desire for healthier options goes out the window during the holidays. Between end-of-year work parties, gatherings of friends and family, and pressures to power through the marathon of entertaining, shopping and socializing in one piece, consumers are primed to indulge and treat themselves this time of year.
This creates an ideal opening for operators to roll out limited-time offers (LTOs) of seasonal desserts and premium beverages to boost both sales and check averages. Fortunately, adding these items to the menu without stressing resources can be a relatively easy process, achieved by making a few tweaks to standard recipes or by dressing up a ready-made foundation to achieve a premium offering.
A Time to Indulge
Several factors drive diners to give more thought to desserts or indulgent beverages during the holidays. Nostalgia is one big factor.
"Mentally, you start to miss home during that time of year, says Neil Doherty, Senior Director of Culinary Development at Sysco. "We tend to gravitate toward the foods we grew up with."
Childhood favorites, homey versions of something grandma baked, comfort desserts such as bread pudding and cobbler, warming drinks like hot cocoa and spiced cider—all stir up memories of holidays past. Similarly, celebrations—whether it's a corporate event or a group of friends catching up over a holiday dinner or brunch—demand a fittingly memorable sweet finale or treat beverage.
Thus, indulgent choices are tailor-made for the season. Those sky-high chocolate desserts and traditional holiday favorites such as yule log cake, as well as spiked coffees and holiday-themed cocktails, satisfy cravings for something rich and splurge-worthy.
Serve a Taste of the Season
In the era of pumpkin spice-flavored everything, it's easy to forget that the holidays are a time to spotlight many other craveable flavors.
According to Technomic's MenuMonitor, mainstay flavors on holiday menus include cranberry, mint, gingerbread, eggnog, sweet potato, nutmeg, hazelnut and cinnamon—all natural fits for holiday desserts and beverages. Emerging flavors that chefs could spotlight include bergamot and finger limes. For restaurants with a creative pastry chef on staff, the sky's the limit when building a holiday dessert and drink menu.
Operators without the in-house expertise can still satisfy the demand for seasonal tastes by customizing everyday dessert options, dressing them up to capture the festive essence of the season. Cheesecake, for example, takes on holiday flair with seasonal fruit, white chocolate, crushed peppermint candy or an eggnog-based sauce.
With LTO beverages, thoughtful presentation is essential. A simple cappuccino might be a stale on after-dinner menus, but adding peppermint-flavored syrup and whipped cream easily elevates it for the holidays. Mulled and spiked cider can get a seasonal lift with the addition of an apple or orange slice and a decorative mug. Spicy Mexican hot chocolate crowned with velvety foam, topped with a cinnamon stick, and paired with traditional cookies (or cinnamon-dipped churros) appeals on many levels: comfort, warmth, ethic favorites. Topping warm drinks with a sturdy seasonal cookie like a snickerdoodle also reinforces the holiday theme. If possible, it never hurts to have the aroma of the holidays in the air, either—the scent of spiced cobblers, cookies and cakes wafting through the dining room evokes warm memories and sets the stage for dessert sales.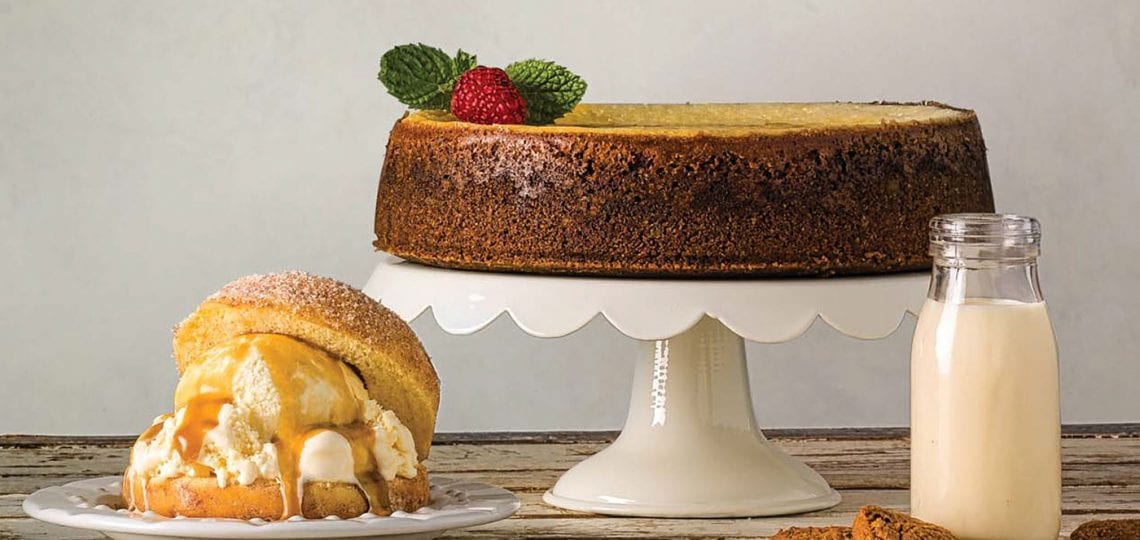 8 Ways to Deck the Holidays
1. Make the most of an LTO's fleeting nature.
If guests know a dessert or drink is only offered for a short time, they are less likely to pass it up. Social media has proven to be a powerful tool to get the word out and create demand.
2. Remind guests that something special awaits.
Train servers to offer a simple cue for desserts when taking orders: "Be sure to save room for our warm Sticky Toffee Pudding—it's only on the menu for a few weeks."
3. Design a separate menu spotlighting desserts and indulgent beverages.
This isn't the time to bury desserts or specialty coffees on the regular menu —a separate menu or table tent will remind customers you've got something special to cap their meals. "It's an add-on opportunity because the demand is there," says Adam Clay, Sysco's Category Manager for Bakery and Convenience. "Having a separate menu gives desserts the attention they deserve."
4. Suggest dessert-beverage pairings.
Ideally, servers should be trained to promote coffee and dessert orders, especially since coffee or tea will help balance out the richness of a decadent dessert. But menus that point patrons toward complementary dessert-drink combinations can accomplish the same thing. "Making that recommendation—'Here's your dessert, and here's the beverage that's going to make those flavors pop,'—paints a complete picture," says Angela Flenoy, Sysco's Director of Category Management, Beverage.
5. Promote desserts and beverages beyond the dinner day part.
Plenty of holiday lunches are celebrations, too. Scaled-down portions of seasonal LTOs and festive beverages provide a manageable treat that doesn't overwhelm.
6. Consider samplers as well as family-style desserts.
Flights of desserts, especially those with a limited run, are perfect for diners who want to indulge (but not too much), or who plan to share. Espresso or other drinks served several ways are another option. Depending on the makeup of guests you might be serving, larger portions might work too: "Saying, 'How about a warm cobbler for the table"' is one way to upsell and reinforce the whole family experience," says Clay.
7. Offer takeout options or whole desserts to go.
If you would rather turn tables than have guests linger over dessert and coffee, consider selling takeout-friendly desserts, such as premade bars or mini cakes trimmed for the holidays (i.e., packed in optional gift-style containers. Many restaurants do a brisk business supplying whole pies or cakes to busy customers looking for a shortcut for a family meal or a host gift. Ask your sales consultant about the varieties and flavors in Sysco's Pies-To-Go program.
8. Tap into the demand for snacks.
Promote an all-day selection of holiday-themed desserts and premium coffees, cocoas and hot ciders for the legions of snack fans. A s'mores hot chocolate is the perfect antidote to an overcast late fall or winter day.