Chef Sharon Steward is the Head Chef and Kitchen Manager at Manitoba Pioneer Camp, a Certified Sommelier, an educator, a cookbook author, wife, and mother. Throughout her life, caring for people with food has been her give back to humanity – whether it's preparing a feast from scratch or training kitchen staff to cook for hundreds of campers. As someone that grew up with food allergies, she is conscious and compassionate in ensuring that all are welcome at her table, no matter their dietary needs.
As a child, Sharon grew up on her family's grain farm in the Canadian province of Manitoba. Preparing wholesome fresh-made meals was a way of life in her household. Sharon enjoyed the process and preparation that went into cooking a feast for her family, and from an early age knew that cooking from the heart would someday be at the heart of her career.
At age 19, Sharon enrolled in The Culinary Arts program at Red River College. In her first year of study, she began working at St. Charles Country Club and remained there after graduation. "After school l apprenticed under one of the top chefs in Canada and learned an immense amount," she recalls. "That [was also] my first experience with Sysco. [I got to see] the rep come and… have those brainstorming sessions to figure out what products [worked for us]. That commitment to customer service on Sysco's behalf, and the deep intent to help us do our jobs… was evident."
In 2004, Sharon moved to Calgary and began working at a fine dining restaurant, and soon after earned a sommelier diploma through the International Sommelier Guild. "My passion for food definitely continued, and I wanted to be able to pair wine with the food that I was cooking," she says. Before long, Sharon's expertise in foodservice and effective leadership allowed her to pivot to a consultant role. "I had been managing a restaurant from the front of the house and consulting for other hotels and restaurants, [and] their food and wine education."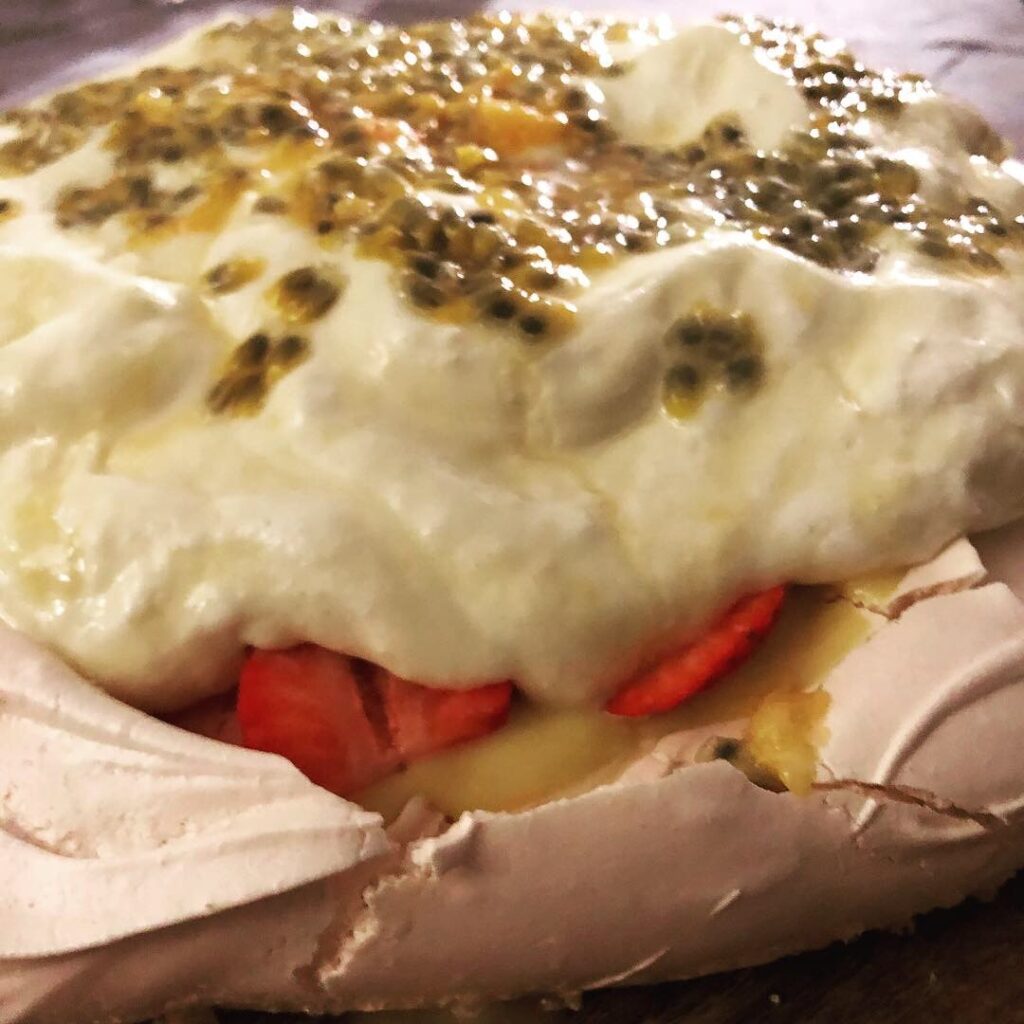 By 2009, Chef Sharon and her husband moved back to Winnipeg. The couple had been in the hospitality industry for years and wanted a change of pace that was better suited for their family. Three years later, Chef Sharon found her new culinary adventure as the head chef at Pioneer Camp Manitoba. She recalls, "We were considering having our own restaurant [but] then the opportunity for us to work at a camp came along. It was just the right fit for our family with small children at the time".
Pioneer Camp Manitoba is an outdoor seasonal camp located on an island in Shoal Lake. Camper sessions are typically one or two weeks long, and host children ages 6 to 17. In 2017, Chef Sharon became a full-time staffer at the camp, and began living on the island four months out of the year. She describes the camp as "a magical place where campers can be themselves". [Campers are] out in the wilderness in a beautiful space surrounded [by] creation…with so much to learn, absorb, and feel."
The camp's kitchen is entirely run by volunteers, making Chef Sharon's expertise in front and back of the house operations an invaluable asset. Before Sharon's arrival to the camp, kitchen volunteers received no formal training and relied on recipe cards with no cooking instructions. In the past six years, camp attendance has swelled from 140 campers to 600 campers – making efficient kitchen operations a vital yet complex undertaking.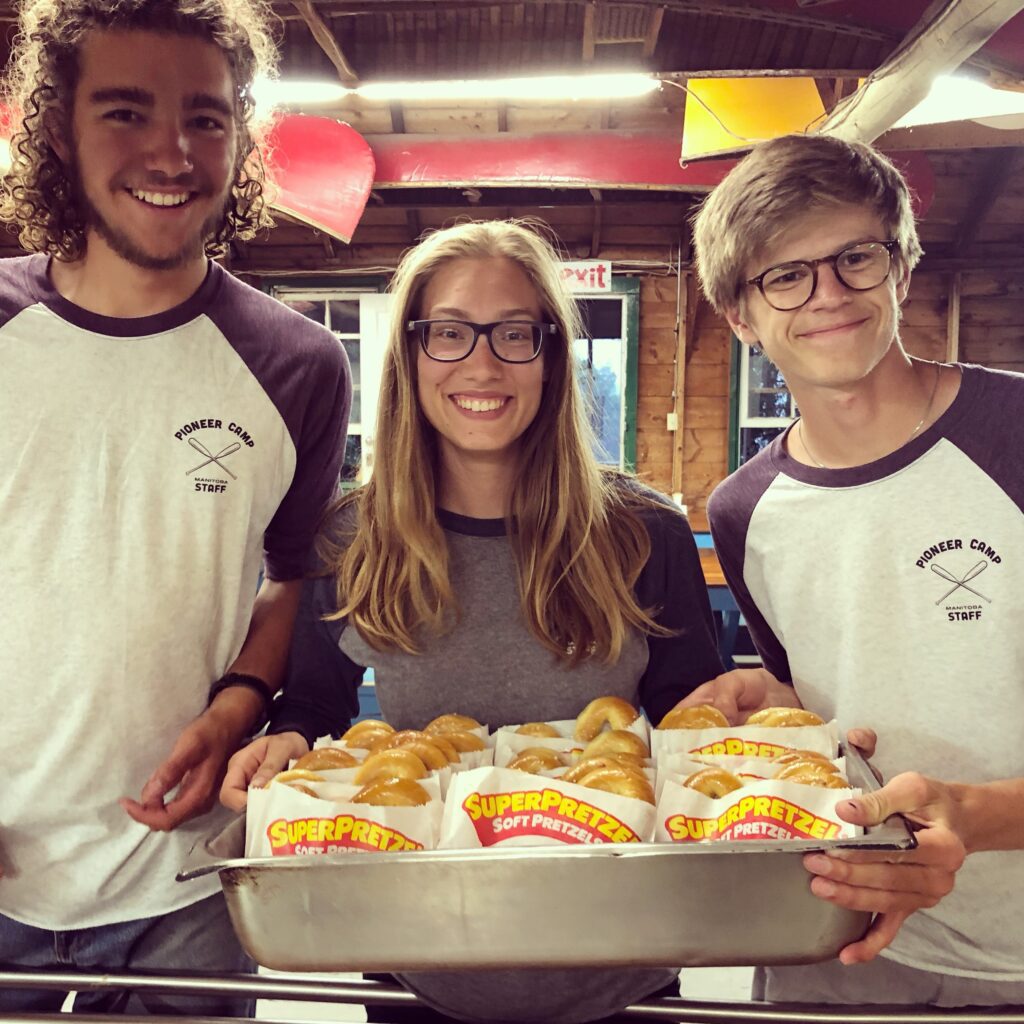 Sharon explains – "There's a lot of work and staff training that goes into producing our meals and figuring out how many people are needed to do a service. It helps that we have lots of volunteers that really want to be in a space like this to learn and be a part of a team. Moving into a space where they had never had a professional chef before, there was just so much need to tend to, and so much potential and possibility." Kitchen volunteers include parents of campers, past and present, and even young people that have never held a knife, but are eager to learn.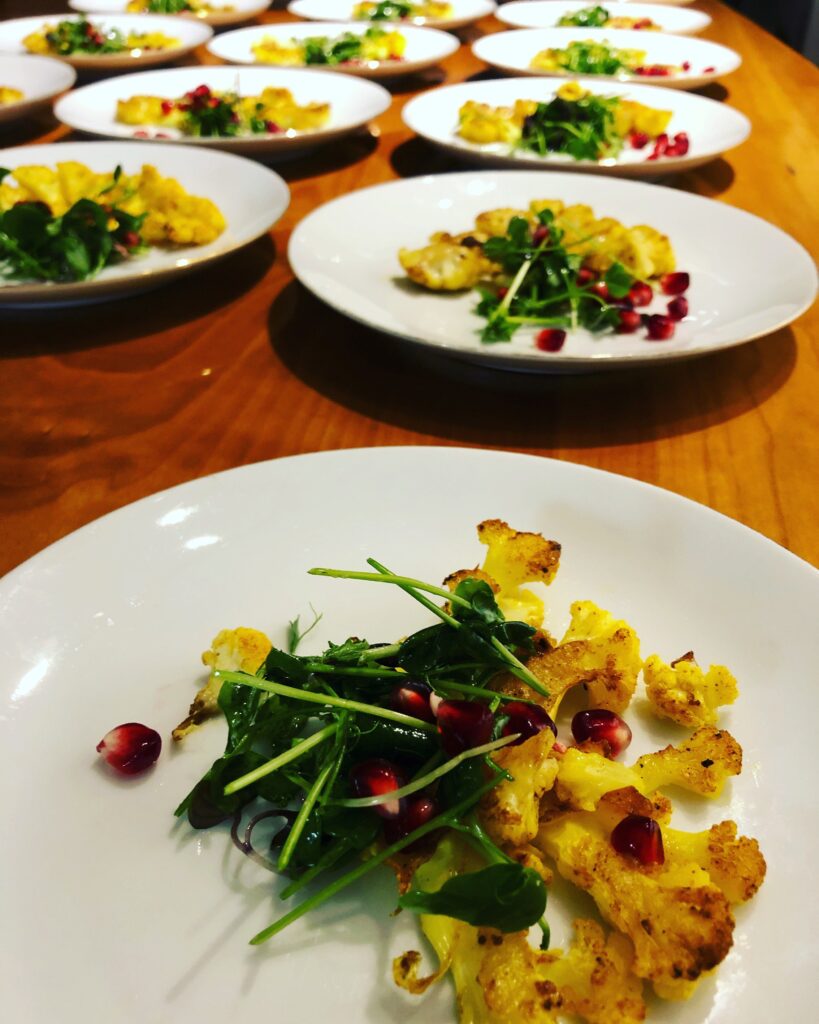 Much like her childhood, Chef Sharon prepares meals for the campers from scratch to accommodate children with dietary restrictions. "I don't work with a lot of processed food, even from our dressings and sauces. It's all from scratch," she declares. "Most everyone would say that their favorite meal is what we call our Sunday lunch meal – it's my orange oregano marinated chicken." Chef Sharon is also passionate about inclusive cooking practices that accommodate unique dietary needs. "No matter what the age of the guest, [I wanted to] make sure that they're being cared for fully, [by]… having meals that are similar to others, [so no one feels] segregated because of their allergies or dietary restrictions."
In addition to supporting kitchen volunteers with training and education tools, Chef Sharon was instrumental in bringing Sysco onboard as the camp's food supplier. "I really appreciate the partnership that I can have with all of the people that I get to work with at Sysco," she says. Her Sysco team includes Sales Consultant, Dayna Barclay, and Sysco Produce Specialist, Chef Laurie Wolfe.
Photography contributed by Pauline Boldt