Never Blue is a globally inspired restaurant located in downtown Hendersonville, North Carolina. Owner and Chef Jesse Roque opened the business alongside her husband and mother with a concept that quickly went from lattes and pastries, to tapas and cocktails. The award-winning restaurant offers diners an irresistible menu with flavor combinations as unique as the story behind Never Blue.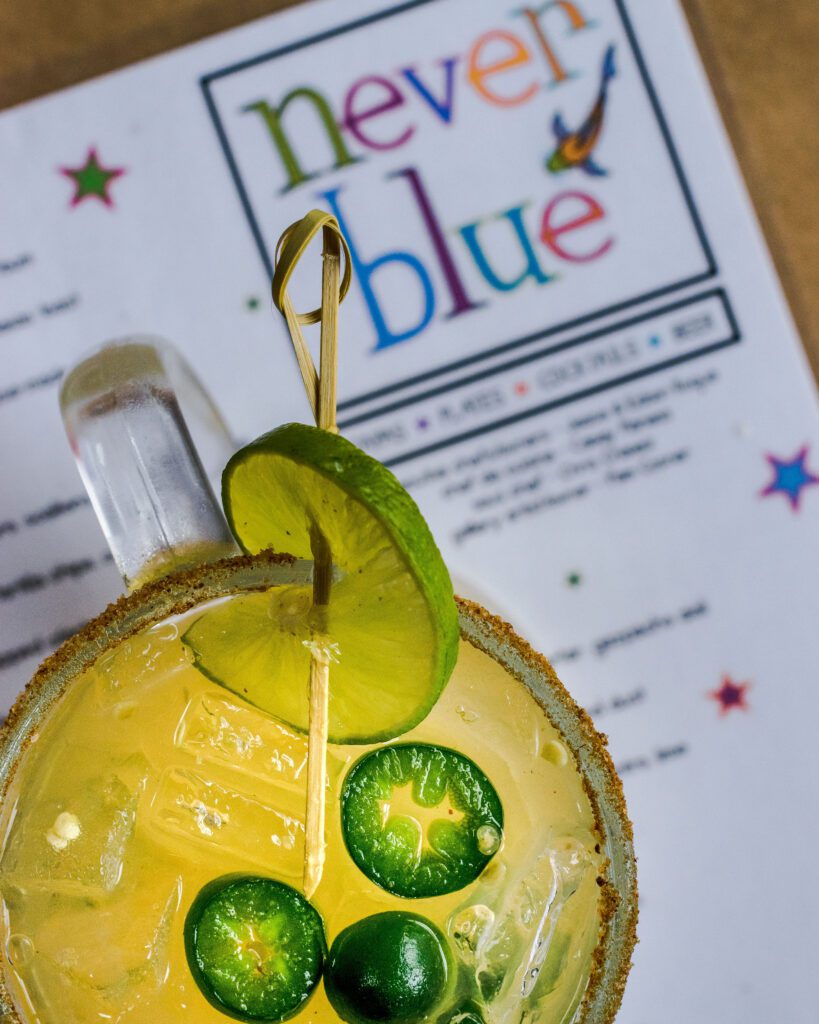 Born and raised in Tampa, Florida, Chef Jesse never expected to find herself in North Carolina. Her mother came to Hendersonville to escape the constant reminders of painful events that occurred in her hometown. "My mom got to the point where she couldn't go out in our town without people bringing up these tragedies," says Jesse. After falling in love with North Carolina, Jesse's mother made her temporary getaway permanent, with a new home on Never Blue Road. Shortly after, Jesse made a move to Hendersonville as well. As she explains, "Never Blue Road started the journey that we were on to the restaurant, and we thought it was a good name because [my mother] came up here to escape the sadness…so she decided she would never be blue again."
The concept for Never Blue began as a laid back coffee shop that offered pastries and an eclectic collection of art. "My mom's an artist, and I am a classically trained pastry chef, so we were going to have a coffee shop/art gallery," Jesse describes. In 2008 Never Blue opened on Hendersonville's historic Main Street. A short week later, the street was shut down for extensive renovations that would take months to complete. The timing couldn't have been worse, and the unexpected disruption forced Chef Jesse to get creative to survive. "We got a lot of support from the community…[but] we quickly discovered that there's not a whole lot of money in pastries, coffee, and art, so we got a liquor license." In the next few months, Never Blue transitioned into a full-service restaurant offering cocktails, beer, wine, and tapas.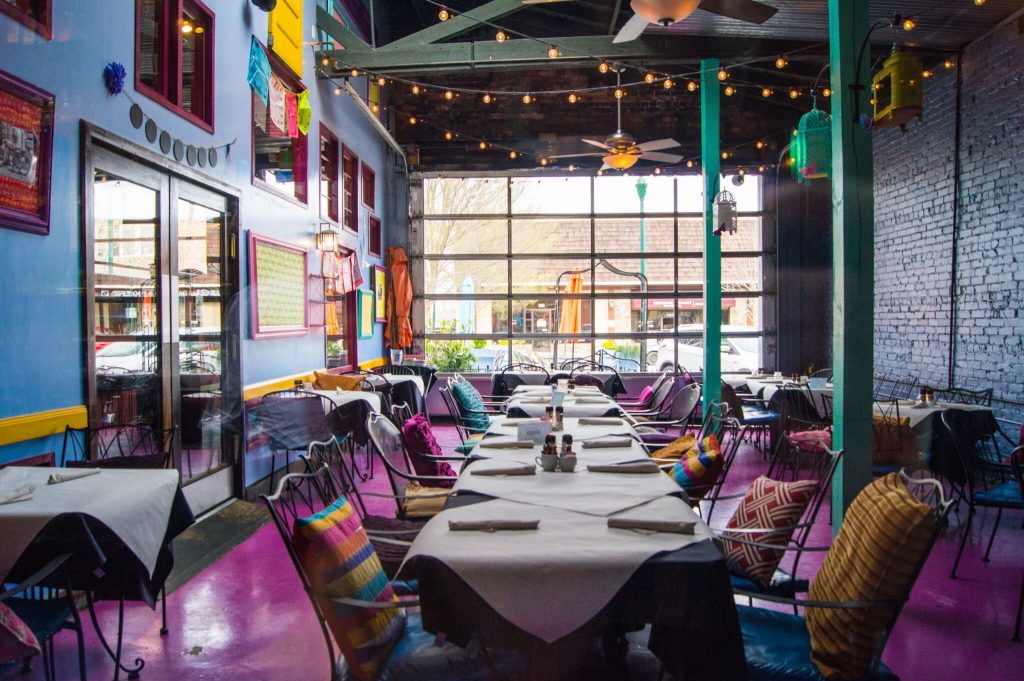 The new tapas menu was ahead of its time and a foreign concept for local Hendersonville residence. "Nobody got it," says Chef Jesse. "I quickly realized that I needed to [add courses] where you had appetizers and entrees, soups, and salads. I kept a small appetizer portion that I called tapas on the menu, and within the first four or five years, tapas started to catch on. About eight years ago, we went to full tapas and transitioned to what our original plan had been with a full-service restaurant."
The Never Blue menu features internationally-inspired flavor combinations that speak to Chef Jesse's talents and imagination. Becoming an accomplished chef and restaurant owner was not an easy journey for Jesse. Her family viewed her culinary pursuits as a high-risk profession at best, and a pipe dream at worse. Jesse explains, "My dad is a microbiologist, and I came from the type of family where the mom stays at home with the kids, and the dad works, and that was just not in my DNA."
Chef Jesse took cooking on as a challenge and began working in restaurants at the age of 15. "I've always been into food, and I wanted to work in the kitchen," she says. At age 21, Jesse decided to take her passions further after a negative experience working with an Executive Chef. "I was called every name in the book because I had this [desire] to cook…and there were no females in the kitchen where I worked," she describes. After the Executive Chef told her that she could not work in the kitchen without a culinary degree, Jesse packed her life into a car and drove to culinary school at Johnson & Wales in Charleston, South Carolina. After graduation, she returned to that same restaurant where she had been mistreated, became the Sous Chef, and eventually took over as Executive Chef.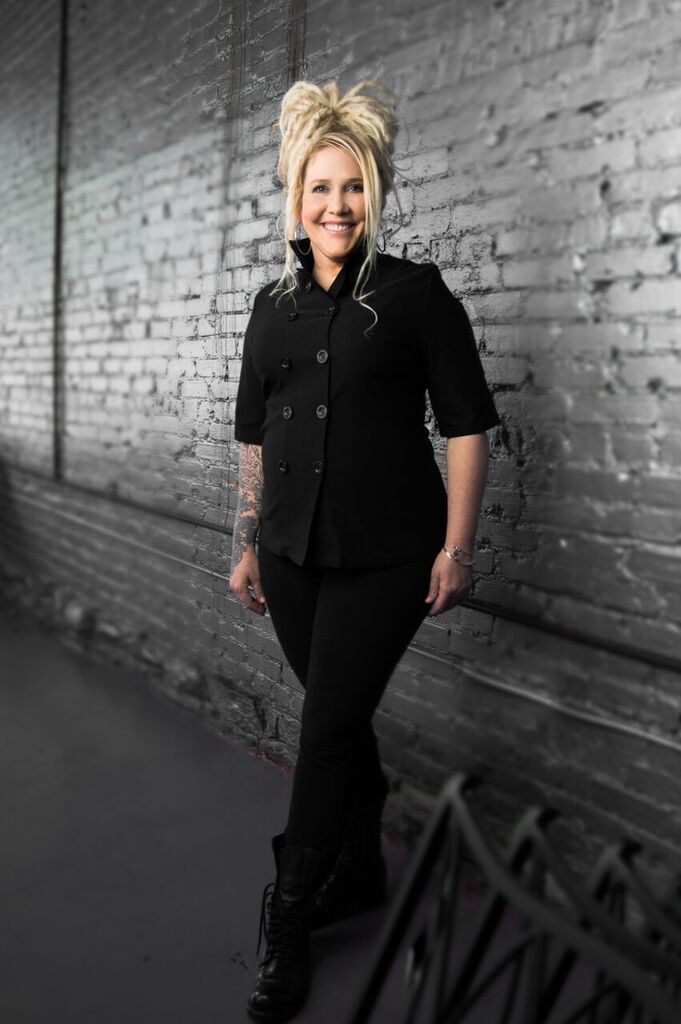 Today Chef Jesse uses her culinary training and natural talent to create the unique flavor pairings that have made her restaurant a popular destination for locals and tourists alike. "I think it's just the flavor combination for us that is unique to this restaurant," she says. "If I can find a way to make things work and [have] flavor profiles meld together to [be] enjoyable, then I do it. When I eat something, I don't want to waste my stomach space on bland, uneventful food, so I try to hit all the taste buds in one bite while making sure the distinct flavor of every ingredient comes through. Most of the time, that requires putting things together that wouldn't normally go together."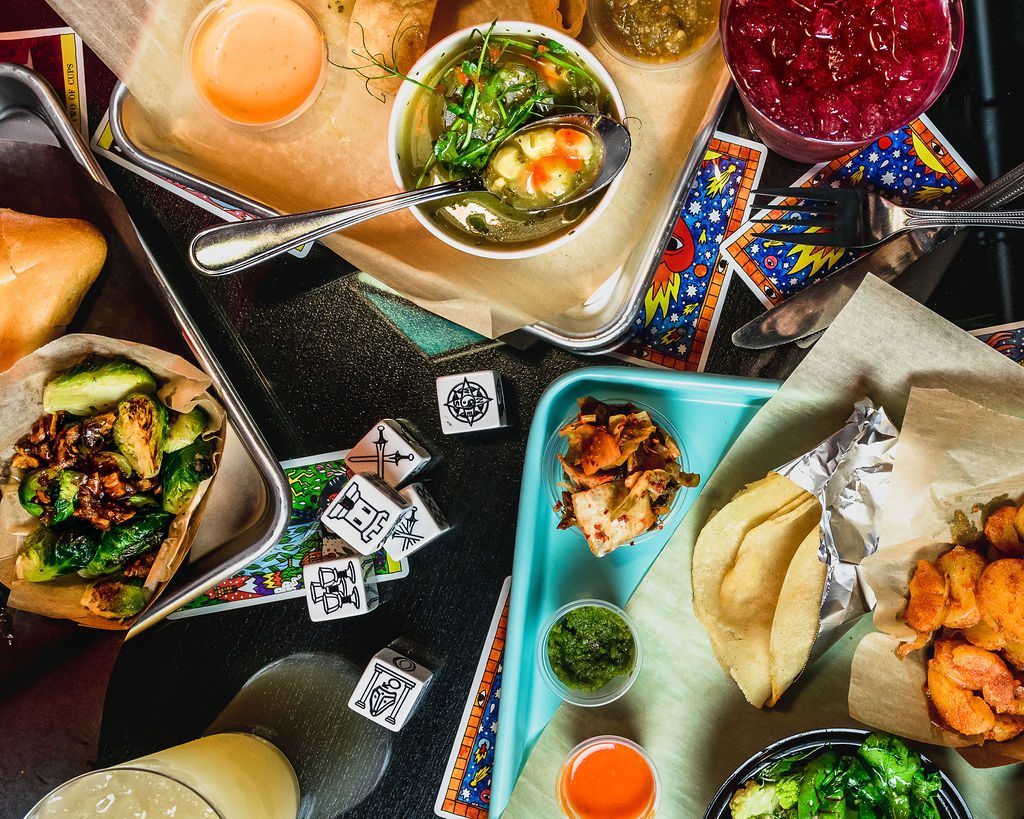 Popular menu items include the Zen Crunch Salad, Chili Garlic Shrimp, and Southern Fried Chicken. Savory house-made sauces and pickled toppings accompany every menu item. "It's the sauces that people comment on the most," says Chef Jesse. Sauce and pickled options include innovative flavors like the Thai Cashew-Peanut Potion, Apricot Jezabel Jam, and Garlic-Lemon Dilly Wax Beans.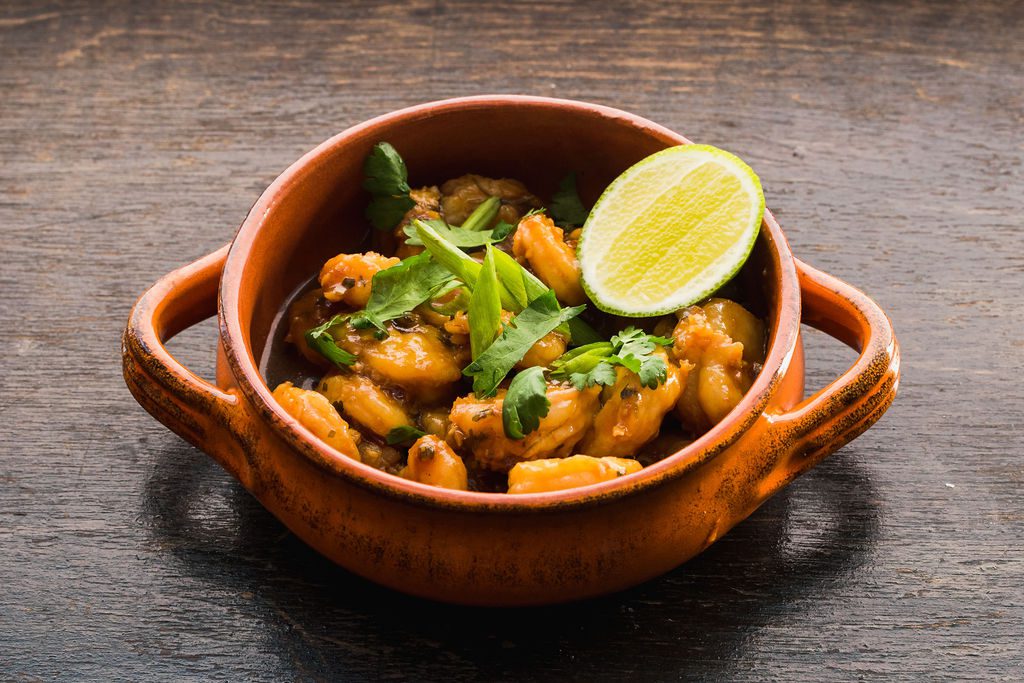 Sysco has been part of the Never Blue story since day one. As Jesse recalls, "[Sysco] started off as a business partner, and now they are dear friends. My Sysco [Sales] Consultant Michelle is wonderful. When I make new stuff, I call her up like, 'hey, you wanna come and try this,' and she'll try it [and give her] honest opinion. I don't know that I would be as successful if I hadn't had them as support and providers of food for me." Chef Jesse also credits Sysco with helping her add new food options to her innovative menu. "[Sysco] always goes the extra mile," she says. "[If] they have a new product come in, they know they can bring it to me, and I'm going to use it…because it's the newest, the most original, the most unique."
Innovation During the Covid-19 Era
Chef Jesse's unique willingness to embrace the unknown in the name of innovation has served her well during disruptions brought on by the Covid-19 pandemic. She started by putting her food truck that has been sitting in storage back on the road. As she recalls, "We shut down just like everybody else in March. We got out [our food truck] and started using it. We are focused on to-go now, but the food truck is back in operations in another county. I think that I will probably purchase another truck because the response from the food truck has been overwhelming. I honestly think that there's going to be a lot of people that even when the pandemic [ends will] continue to stay away from social situations. I really feel like the mobile business is where it's at from a food truck perspective."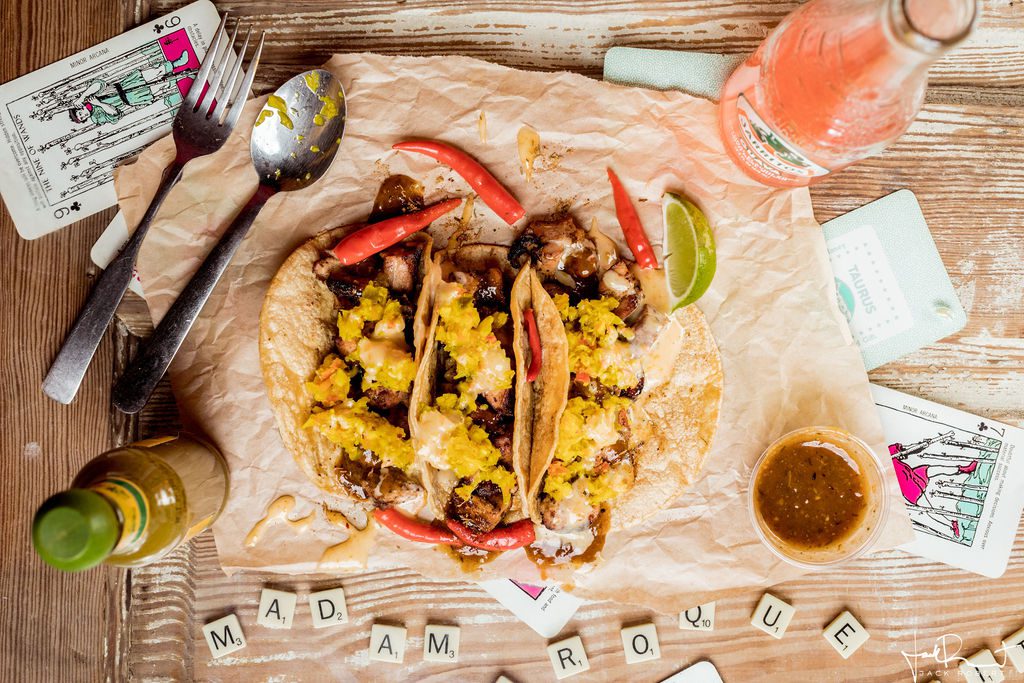 To continue to drive the success of Never Blue, business resources were offered to Chef Jesse through the Sysco Restaurants Rising campaign – a collection of business solutions that include the tools, information, and programs that restaurant owners need to succeed. As she describes, "[Sysco's] been really good about [providing] suggestions and making sure that I was able to link into every webinar that they've had. Since I got my certified acidic food preparation license they've [also] helped me design a logo. Anything new that they've got, they're contacting me immediately and [saying] 'hey, we have this webinar, do you want me to sit in on it with you in case you have any questions?' I can't say enough good things about them, and that's why I don't order from anybody else."
Looking to the future, Chef Jesse plans to keep a number of operational changes that were implemented during the pandemic. "I homeschool both my kids, so I found that there was a real value in staying home and spending more time with them," she says. "One of the changes that will take us through is that we will no longer be open for five days [a week]. We only open for four days, Wednesday through Saturday, because I think it's important for all my people to have that time with their families."
In the months to come, Never Blue customers can look forward to more holiday-themed meal kits to enjoy at home. Chef Jesse explains, "I did Thanksgiving meals to-go with instructions on how to prepare them at home, and it was immensely popular. We're doing that for Valentine's Day, and I've had so much interest from people asking me if I would keep doing it even after the pandemic that I think that that's something that we'll continue to do."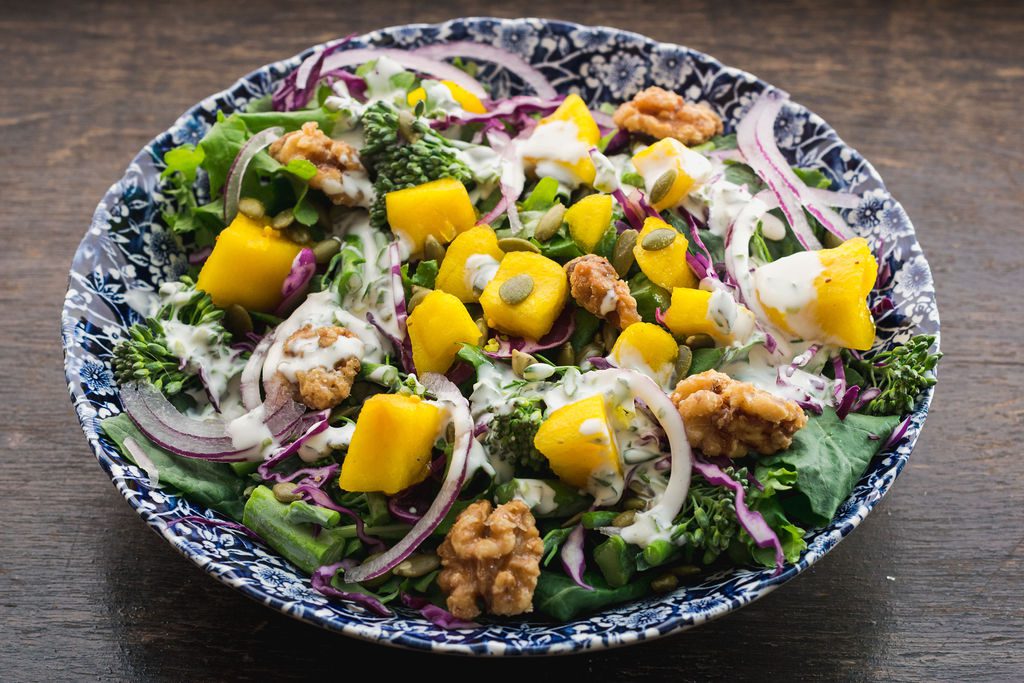 The uncommonly innovative magic that Never Blue has offered the locals and tourists of Hendersonville shows no signs of slowing down. Of all that Chef Jesse has accomplished, she is most proud of creating a space where customers feel welcome, and her team feels appreciated. "I'm proud of creating an environment that I wanted when I was the age of my employees," she says. "I'm proudest of being able to create a restaurant that people want to come and work in and feel like I care about them." No matter what's going on in the world, anyone that comes to eat at Chef Jesse's restaurant will never be disappointed, never forget their experience, and as the name suggests, never feel blue.