Chef Daniel Schleiden is the Culinary Arts and Food Management Program director at Clearfield County Career and Technology Center (CCCTC). The hands-on program gives high school students and adults basic culinary skills and experience in foodservice management. Students that complete the nine-month program earn The ProStart National Certificate of Achievement (COA). Schleiden's goal for the course is to inspire students to pursue higher education through the confidence and skills they acquired within the program.
Before becoming an instructor, Schleiden worked in the military in the field of cryptographic electronics. Looking for a career change he decided to open a tavern. "I really enjoy the atmosphere of a tavern [and] wanted a nice family environment," says Schleiden. I thought the best way to do that was to go to college and get a degree in the culinary arts so that I could [better] understand everything." The long hours and demands of a restaurant redirected Schleiden's career path into the field of education. "There's a lot of educators in my family, and I probably should have started off as one but I took the long way. I've always been around this industry and really enjoy it."
An unexpected opportunity brought the chef to CCCTC as the Culinary Arts and Food Management Program director. Not long after taking the position, Schleiden realized that his students would need more than knife skills during the course; they would need life skills and encouragement to overcome the challenges facing them outside the classroom. Some teenage students are the breadwinners in their family and must take on the adult's responsibilities of the household. Other students learn differently and have given up on higher education after a lifetime of feeling disempowered in school. "I started turning my focus into giving them a way out," says Schleiden. "[With] just two years of college, you can get somewhere."
Schleiden designed the program's curriculum around the culinary school that he attended at Johnson and Wales University. He explains, "my goal is to get the kids to just try two years of college, so I matched [the program], so when they got [to college], there will be some familiar ground [and] they won't freak out. My curriculum is different every year based on what the students [want]." Program participants learn a variety of culinary skills, including baking and knife skills. "We prep about 300lbs of vegetables just to get the knife skills," says Schleiden. Students also gain real-world experience in restaurant management through an intense restaurant simulation module.
Schleiden explains, "I have a little sous chef program that I do. We have a live kitchen open to the public, and each kid has to run it like they own it. They get a whole week of one-on-one really focused attention. I tell them 'I'm not here to teach you how to flip a burger; I'm here to teach you how to be a manager.' They are not allowed to touch any of the food. They can only delegate. [They're] the supervisor, [they] own this place."
This portion of the program teaches management skills while molding the students to become effective leaders in a fast-paced environment. "I put them under a lot of pressure in the first year to the point where they might hate it," he explains. "As we're going through that pressure, I explain to them this is a day to day occurrence. There are things you're going to need to be able to handle [in a restaurant]."
Throughout the program, Schleiden hopes that each student gains clarity into which area of foodservice most aligns with their skills and interests. "You're not gonna hurt my feelings if you don't want to be here," says. "That's the whole point. Let's find out what you like. Let's find out what part of food service you're actually [interested in pursuing]. Do you like the pressure of the kitchen or do you like the mental aspect of being a manager or owner? You got to figure out what part you like and what you can handle."
The Culinary Arts and Food Management Program operates on a modest budget, requiring Schleiden to find cost-effective ways to meet students' needs. In 2018 he reached out to Sysco District Sales Manager Rob Maynard to inquire about Sysco's potential in becoming a program sponsor. Rob immediately jumped at the opportunity. Schleiden recalls, I don't even think I took a breath and he was on the phone [making calls]. It took about a year, but he started a program that donated knife kits to all the students that came in every year, which is phenomenal because they can't afford [it]. Sysco became this amazing entity for me. Anything I needed, they were doing it. Rob did a hell of a job, I gotta yell ya."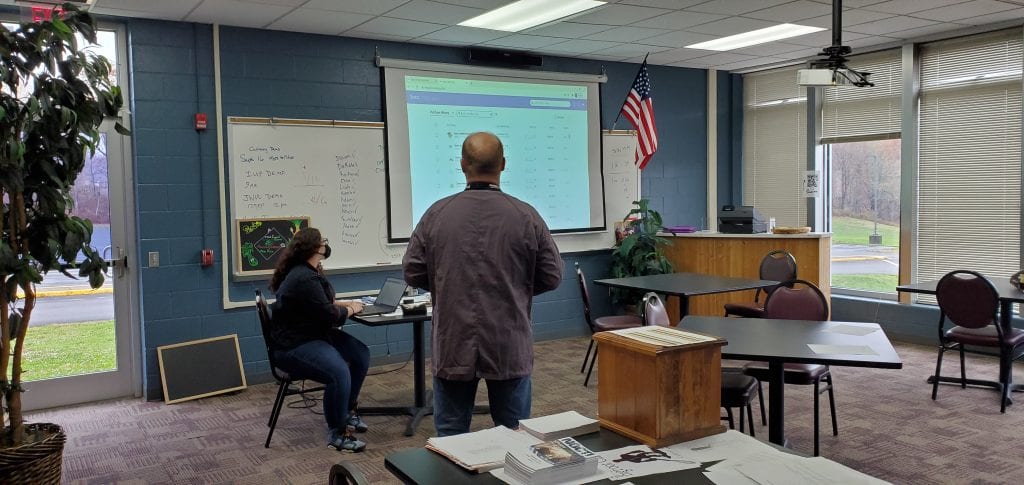 The Culinary Arts and Food Management Program also uses the Sysco Shop ordering system to teach students about inventory, placing orders, and balancing a budget. "We started using Sysco solutions because they were willing to do so much for those kids" explains Schleiden. "I make them put my orders in for me. They go through the kitchen, [and] they put the orders together for the week when they're in charge. [Then] we all sit down in the class and look through the Sysco database. They really do real-world stuff, everything from start to finish."
This year's students face significant challenges due to social distancing protocols in response to the pandemic. The nature of the curriculum requires hands-on training that does not translate well in a virtual learning environment. Schleiden explains, "these kids come to us in these career center schools because they learn differently, and some of them don't even know that, but when they get [here] the lightbulb starts going on, and they think 'oh my gosh [ I can do this]'. So you take their only way of learning away, and [it becomes clear] that they need the hands on learning to hold on to the information. We've had to change everything that we're doing."
The new scope of sequences in the program has been adapted to incorporate virtual learning, but as Schleiden explains, the need for in-person classes is vital for students in stressful home environments. "Their home life is so bad," he says. "They don't have anywhere else to go to get some solitude. Most of the teachers have decided that if [schools close] again we're going to stay at the school. We'll go to work every day, and we can social distance and follow the rules, but if a kid needs to come in, we can take care of them one at a time."
Several students who have completed the Culinary Arts and Food Management Program have achieved degrees from two and four-year colleges; some even obtain nutrition and dietician degrees. For many students, the self-awareness and confidence gained within the program puts them on a path to educational, professional, and economic opportunities that would have otherwise been dismissed as unattainable goals. Each student has a story, and through the mentorship of Chef Daniel, and the support from companies like Sysco, each student has a chance at a happy ending. "I really enjoy people having the right information," says Schleiden. "My primary mission is to see them succeed."