Mitchell Murphree is the owner and Executive Chef of Five Senses Restaurant & Catering, located in Murfreesboro, TN. The restaurant specializes in providing a fresh seasonal menu of locally-sourced meats, seafood, and produce, accompanied by a refreshing cocktail and wine menu. The name of the business is inspired by the multi-sensory appeal of the culinary arts, and celebrates the vast shapes, textures, and flavors of food. The restaurant's farm-to-table approach has won over customers for over seventeen years, despite unprecedented challenges along the way.
A Restaurant in the Making
The brother and sister team, Mitchell and Mollie Murphree, opened Five Senses in the winter of 2004. "My sister and I started the restaurant. The name was her idea. She gets full credit on the name," explains Mitchell. "Cooking is the only art that involves the use of all five senses, so it just stuck." In 2007 the restaurant added catering services to its offerings, and by 2011 Mitchell became the sole proprietor of Five Senses Restaurant & Catering.
Although Mitchell is the Executive Chef at the restaurant, his introduction to the culinary world began in food science. "I had a degree at UT Knoxville in food science and technology," he recalls. "That's not cooking at all, that's more research and development, microbiology, food laws, and labeling for big companies. I got a job my junior year in college at a pizza place called Tomato Head, founded by Mahasti Vafaie in Knoxville, Tennessee. [There] I kind of fell in love with the restaurant business and cooking. I had a great boss there, and she mentioned culinary school [to me]. I hadn't really thought about that [but]… I ended up going after graduating from UT Knoxville to The Culinary Institute of America in CIA Hyde Park, New York. My first job out of culinary school was at Highlands Bar and Grill, owned by chef Frank Stitt and Pardis Stitt in Birmingham, Alabama. I was there for two years and then came up to Murfreesboro. That five-year stretch at Tomato Head, culinary school, and Highlands Bar and Grill pointed me in a direction that I wanted to own my own restaurant."
Although Five Senses provides diners with a high-quality menu in a vibrant, industrial-chic space, Mitchell doesn't embrace the fine dining restaurant title. "One of the things I hate being called is fine dining," he proclaims. "We kind of coined it fun-dining. We really wanted to make [the restaurant] fun and interactive. We have always had an open food bar, and it's a completely open kitchen. Those are the most desired seats in the house. [People want to] sit up at the food bar and mix and mingle with the chefs and ask what they're doing.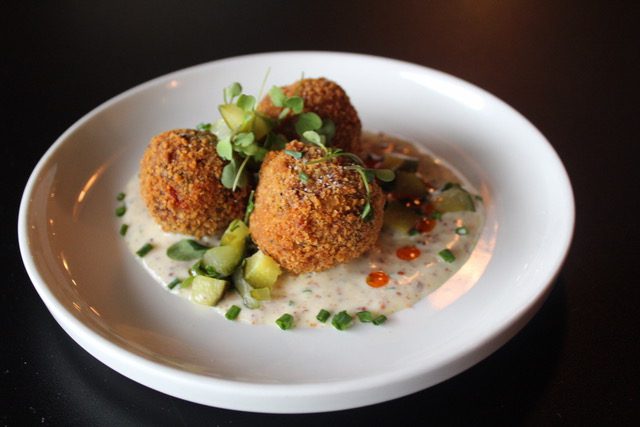 Senses and Seasons
Five Senses brings the community of Murfreesboro a gourmet experience dedicated by the seasons. As Mitchell explains, "That gourmet, locally sourced, seasonal menu concept [is] … almost cliche now; but seventeen years ago the thought of buying all the food from the farmers market, and supporting local agriculture…was still a very new thing. We let the farmers who are around us … dictate what we put on the menu.
The food at Five Senses features an eclectic assortment of seasonal dishes from a variety of cultural influences. "I think it's hard to put us in a category," Mitchell explains. "We started out with Southern regional cuisine, whether it's by making grits fancy or [making] pork osso buco instead of veal osso buco. We always have different ethnicities represented on the menu now, and even in the beginning, we did, but we really focused on our Southern heritage."
The list of popular menu items is endless, thanks to fresh ingredients like sweet potatoes and heirloom tomatoes. As Mitchell explains, "our take on eggplant parmesan is a staple summer item of heirloom tomatoes, dressed with sherry vinegar, extra virgin olive oil, and fresh basil, stacked with crispy breadcrumb fried eggplant and topped with parmesan cheese fondue and fried basil." Seafood items are in high demand at Five Senses and feature customer favorites like the blackened redfish with wild American shrimp and grits. "Our seafood is our go-to," proclaims Mitchell. "We get fresh fish, fresh shellfish, and shrimp [that's] always wild. People really come for the seafood". Another popular menu favorite is the Pork Osso Buco, served with mashed potatoes, turnip, rutabaga, carrot, mushroom, and winter greens. As Mitchell explains, "A lot of our braised items are really good. We've done quite a bit of braised lamb shanks and braised venison shoulders."
Beyond the menu, if you ask Mitchell what makes the restaurant unique, he has two words, "the staff." "They fire me up some days … they are fantastic. We've still got two people in our catering dept that have been with us since the day we opened our doors. Our General Manager [Andrew] has been with us for 11 years. Several servers have been with us for 4 and 5 years. That's the main thing – we've developed a culture where people feel just as comfortable whether Andrew's there or Will [our Kitchen Manager], or any of our other staff who they've seen for years. That's our [reason for] success. There is no question about it."
Nashville Strong
Like all businesses, Five Senses has faced many challenges throughout the years, but in 2020 they weathered their biggest storms yet, literally and figuratively. March 2nd – 3rd, Nashville and surrounding areas were devastated by deadly tornadoes with winds above 175 mph. Hundreds of homes and businesses were destroyed, including the Sysco Nashville food distribution center. In a time of great uncertainty, Sysco's sister operating sites jumped in with creative solutions to ensure that all customer orders would be fulfilled without disruption.
As Mitchell recalls, "That time specifically with the tornado, was an unsure time for a lot of people, and then the coronavirus hit about two and a half weeks right after that. Everybody was in a tailspin of what to do, but Sysco was there. I never questioned if they would be available, and they never gave me any reason to doubt that they would still take care of us after that tornado hit. Once the coronavirus came on board, they were there to give us new ideas about what people were doing. We have a private event space next to Five Senses, and we transitioned that into a mini grocery store with the help of Sysco. Not only were they out of their warehouse, but they were still finding ways to give us new fresh ideas and be that person that could do a lot of the research and … help us through that time. They've been good to us."
Mitchell credits his Sysco Sales Consultant with prioritizing his success in every situation. "I've been using [Sysco] for about 18 years now, and I think that's the main thing – Sysco has always been good to me from the standpoint that my sales [consultant] has always been very accommodating. If I need something quickly or need something slightly after cut off, they always make it happen. They're always talking about new ideas. Scott Brown, who's our Regional Sales Representative, he's been phenomenal, especially with some of the bigger events like Bonnaroo."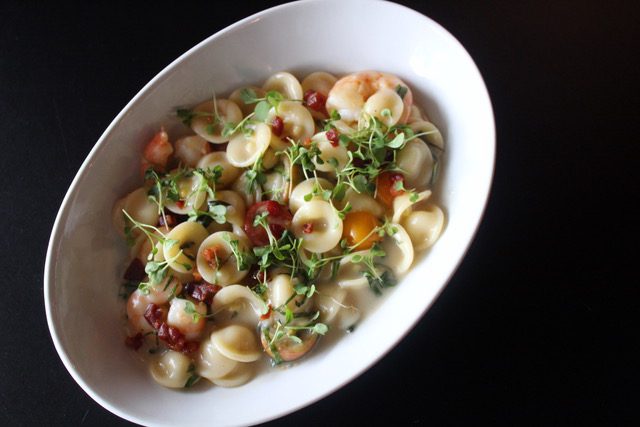 The Next Chapter
Looking forward to the year ahead, Mitchell is excited to see a return to normalcy at the restaurant. "We're really excited to reopen our open kitchen food bar. Those are the most desired seats in our restaurant. It makes for a really fun vibe, a really fun atmosphere, and I think it also helps with kitchen morale [when staff can] see that they have people sitting right there." Mitchell is also excited to get back to catering in the Nashville community. "Our in-house dining was not overly hurt during all this, but the catering side was decimated," he says. "We're very much looking forward to the catering and private event side of our business [returning] and our revenue stream coming back."
In reflecting on the past year, Mitchell has a newfound appreciation for restaurants and all the people and passion within the foodservice industry. "I think this time has definitely opened some eyes to the restaurant business and what people go through on a nightly basis," Mitchell explains. "I think with food comes a sincerity [and a] passion that people have to bring. When you're going to a restaurant, if your experience is good, you're dealing with people who really do care about what they're doing. Everybody can go through the motions, but having a really nice experience at a restaurant is [when] … there are people behind the scenes that put a lot of passion and care into what they do to make sure you have a good experience."
That passion translates into everything that Five Senses Restaurant, Bar & Catering provides in the community of Murfreesboro. From supporting local agriculture to serving imaginative menu items, Mitchell has cultivated a restaurant that delights the senses in every season.