The Southern Inn is a charming restaurant based in Lexington, Virginia. Decades of satisfied customers far and near have dined on their contemporary menu of New American fare and southern comfort food. Co-owners and husband and wife team, George and Sue-Ann Huger, took over the restaurant in 1998, 66 years after its inception. The restaurant is a rich tapestry of community, history, and perseverance in the face of unimaginable challenges.
For years guests at The Southern Inn have been delighted to find menu options that range from casual to fine dining. "Comfort foods have always been our most popular items," says George. "We also wanted to be, for lack of a better term, sophisticated enough that…the local business community could feel good about bringing clients in from out of town." The menu features popular southern comfort items such as meatloaf, and fried chicken, alongside more elevated dishes such as roasted duck or ribeye steak.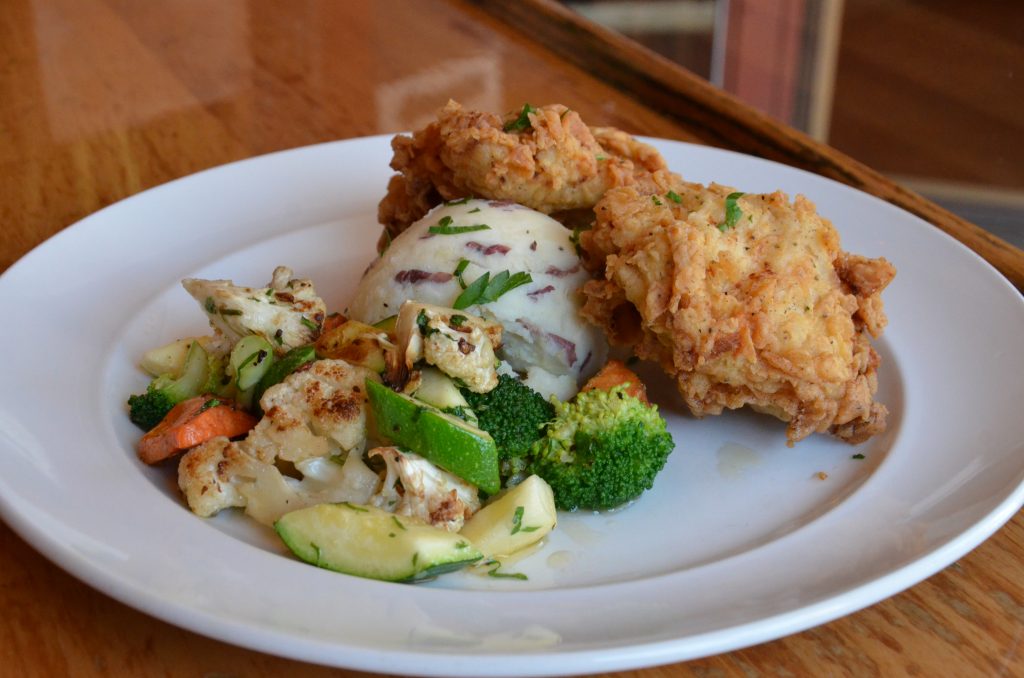 The decor at Southern Inn is a feast for the eyes, peppered with an eclectic collection of art displayed throughout the restaurant. "We enjoy art and being part of the local art community," says George. The art and warm lighting create a charming ambiance that draws university students, tourists, and dedicated patrons alike. According to George, "we really wanted to have a restaurant that could be a place where people could come multiple times a week and feel comfortable and bring their family."
Adding to the character of the restaurant is its nearly 90-year history in the community. George explains, "the history of the establishment makes it memorable. Most of our staff, especially our longtime servers, really buy into that, and they love to tell [our] stories. I think that's part of what makes [us] memorable. We have gotten so much community support over the years. It has really kept us in business."
In 2010 George and Sue-Ann relied on that support when their restaurant In 2010 George and Sue-Ann relied on that support when their restaurant was nearly destroyed by a fire caused by lightning. George reflects, "there were some hard times then – but Sysco supported us, our other loyal partners supported us…the staff believed in me and the organization, and so we made it through." To this day, a tablecloth that survived the fire can be found on display at the restaurant.
This year The Southern Inn and restaurants across the country have found themselves facing the unprecedented challenge of serving customers during a pandemic. To help restaurant operators continue to generate revenue, Sysco has launched a series of Foodie Solutions Toolkits. Each toolkit provides innovative resources that will drive business through concepts such as holiday planning and virtual kitchens.
"I think that [Sysco] solidly nailed it," George says when describing the holiday toolkit. "I think for us as operators to be successful and really make the most out of this holiday season, we need to be presenting ideas to offices and groups of people that typically get together," explains George. The holiday toolkit outlines recommendations for profitability during the holiday season, including preparations for cold weather months. "I think at this point we are back at another crossroads because we've kinda gotten comfortable with where we are," says George. "We've had outside dining…but we're getting to a point where winter is going to change a lot of [things].
The Virtual Kitchen Toolkit offers insights into virtual restaurant trends, such as setting up an online ordering system. Prior to COVID, the Southern Inn did very little carryout. As George explains, "[by] March 17th, we were a carryout restaurant. Probably 70-80% of our business was coming [from] online ordering." Shortly before the pandemic hit the U.S, George updated the POS system at The Southern Inn, setting the restaurant up for success in the days to come. "We were absolutely saved by changing POS systems", George added.
"Starting to make that adjustment put us so far ahead of where we would have been," he says. "So many people weren't prepared and set up. Can you imagine scrambling to try to figure out who to use and feeling the pressure [of being] under the gun? I can't say enough [on] how much having made that change put us far ahead of where we would have been. The number of ways that it changed how we [operate was] just incredible.
George adds, "…with the support of our Sysco Consultant, Tammie Sadonis, and [our] Broker, we gave our to-go program a new look using all eco-friendly products. These products allowed us to send restaurant quality products out the door, [and] we have gotten lot of compliments on our packaging."
No matter the challenges, whether fire, pandemic, or shifts in the foodservice industry, Sysco has been proud to serve and support The Southern Inn. "I would describe my experience as a Sysco customer as a long and winding road," George describes. "Sometimes it had a few bumps, but we've always managed to get back to the smooth and well-paved places. I think Sysco has helped support us in so many ways that we've made great partners, and I hope that Sysco feels the same."