With a resumé that includes being featured on Guy Fieri's Diners, Drive-Ins & Dives, serving as the backdrop of "The Deli Man", a New York produced documentary telling the story of the American delicatessen, and known as one of (if not the) best deli in Houston and the United States, Kenny & Ziggy's New York Delicatessen Restaurant is infused with a nearly 100-year history and has been delighting diners since first opening its doors back in 1999.
At its helm is David "Ziggy" Gruber, not only the chef, owner, and founder, but also its heart and soul, dedicated to the deli industry and committed to continue this Jewish culinary legacy. Although originally skeptical that Houstonians would even know, let alone embrace, the traditional Jewish delicacies on his menu, Ziggy soon found his fears were unfounded as patrons lined up to dine on mile-high corned beef and pastrami sandwiches, plus classic favorites like chopped liver, Hungarian stuffed cabbage, chicken matzo ball soup and more.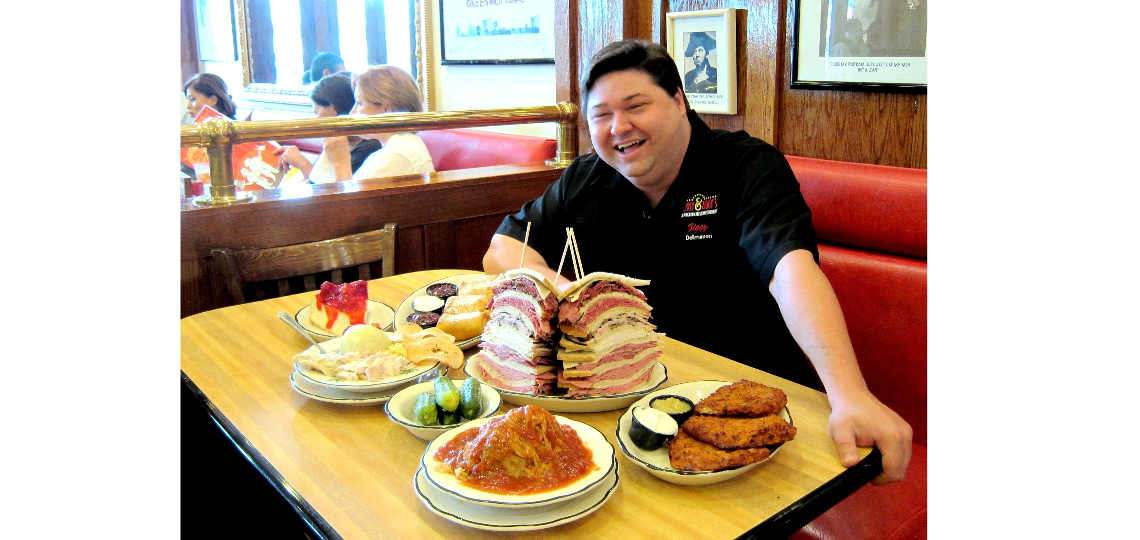 Warm, friendly, and a gracious host, Ziggy Gruber has a genuine desire to make people smile, whether it's from his jokes, his amazing dishes, or both. As Ziggy will tell you, Kenny & Ziggy's isn't just about food. It's about tradition. As a young teen, Ziggy's grandfather Max left Hungary and sailed to the United States, ending up in New York City's lower east side. After spending several years working in delis and learning the craft, Max and his brothers-in-law opened their own Jewish deli on New York's famed Broadway. Max's son Gene then took the stage and eventually began teaching the deli business to his son, Ziggy. When he himself was just a teen, Ziggy was ready to open his own deli; however, Ziggy's parents encouraged him to attend culinary school instead. He left for London, graduated from Le Cordon Bleu, and went to work at London's first Michelin three-star restaurant, Le Gavroche. But after two years, he realized the deli business was in his blood, and went back to New York to take over the family deli. Ziggy will tell you being a deli man is something he was destined to be, and he is, a third generation deli man three times over, having run successful delis in New York, Los Angeles and of course, Houston.
Although deeply rooted in tradition, one of the keys to Ziggy's success is that the business is always evolving. Whereas a lot of restaurants want to grow their business through expansion, opening more and more locations, Ziggy chooses a singular approach, focusing on one store and maximizing its potential. As he'll say in his own words – "One tochus can't dance at two weddings". After the pandemic, as diners started making their way back into restaurants, they were looking for more unique and memorable moments through inventive menus, theatrics, and activities. Realizing this trend and determined to deliver a "WOW" factor, Kenny & Ziggy's started hosting themed events, including wine dinners, Vodka-Latke parties, "Romanian" nights, and their hugely successful Marvelous Mrs. Maisel Season Finale viewing party. For this event, the restaurant designed a three course themed menu with specialty cocktails and encouraged diners to come dressed in period attire and watch the finale in their private dining room, the Schmooze Room. Another great success story is the series of Valentine's Day performances featuring beloved entertainer Dani Luv, originally from Sammy's Romanian Steakhouse in New York. Diners were encouraged to "come and get some luv" and make reservations for an evening full of delicious food, drinks, live music, and dancing. Definitely a night to remember. But in addition to delighting guests with fun and frivolity, occasions that are truly "insta-grammable", Kenny & Ziggy's also prides itself on creating meaningful events that bring people together in truly impactful ways. One such event is the Holocaust Survivor's luncheon. Survivors and guests are invited to lunch for a day of noshing and remembering to continue the conversation and education of this horrible tragedy in history. Off site, Ziggy and his team have also hosted cooking classes at the local Jewish Community Center. Everyone participates in hands-on cooking, learning to create traditional dishes like blintzes and beet borscht, to new favorites including a vegan version of stuffed cabbage that uses Impossible brand meat. While Ziggy prefers to "stay in his lane" and remain loyal to the traditional New York Jewish cuisine he grew up on, he has added more vegan and vegetarian dishes to his menu based on customer demand and new dietary preferences. Again, evolving, but never straying far from his roots.
These immersive experiences have been extremely popular and well-received, and even more importantly, they have strengthened the ties of community and deepened his guest relationships. Loyal guests as well as new customers will keep coming back time and time again. Ziggy has found a way to put a fresh, fun take on dining in the traditional Jewish deli, while still staying true to the unique and distinct heritage of his Jewish culture.