Nothing beats a hearty Philly steak sandwich to satisfy any beefy, cheesy craving. And building the perfect steak sandwich starts with good bread and tasty meat to make it memorable. By adding a few extra toppings and some unique ingredients, you can easily elevate this bastion of deliciousness into a truly signature creation. Here's a quick rundown of some traditional favorites as well as some unique offerings that deserve a place on your menu.
The Classic Cheesesteak – While the cheesesteak will always be linked with "The City of Brotherly Love", devotees are in constant and passionate disagreement as to just what makes an authentic cheesesteak. While the original recipe of steak, onions, and cheese in a hoagie roll has its die-hard fans, this traditional favorite has evolved over time to incorporate new ingredients and flavors. Let's take cheese for example. There's provolone or American cheese, and yes, even Cheez-Whiz.  While green peppers are a staple in most recipes, if you're looking to bring the heat, hot cherry peppers, long hot peppers, and banana peppers are great options to try. Feel free to also add mushrooms to help round out the flavor.
Fajita Style Cheesesteak – Two classic dishes create one fantastic steak sandwich. Steak and veggies seasoned with chili powder and Mexican spices, then combined with Oaxaca cheese and served on a toasted hoagie roll or buttered sourdough bread.
Black & Bleu Sandwich – Feeling a bit fancy? Dress up sliced steak with the sweetness of caramelized onions, peppery arugula, and creamy bleu cheese crumbles, then drizzle with balsamic vinegar and serve on a toasted ciabatta bun.
Chimichurri Steak Sandwich – Tender steak topped with sauteed onions, homemade Chimichurri sauce, and smoked gouda cheese on a soft and chewy baguette. Want to change things up? This tasty sandwich also lends itself to a range of creative options. Add tomatoes or arugula for an extra layer of flavor. Feel like Boursin cheese instead of gouda? Swap it out. The choice is yours!  
Vietnamese Steak Sandwich – (Banh Mi) While not your traditional steak sandwich, this popular fusion food is a wonderful combination of flavors and textures. Marinated steak, crunchy pickled vegetables, and cilantro, all served on a crusty roll make this delight one of the most beloved steak sandwiches around.
Aside from being delicious and having great mass appeal, these tasty creations can be assembled and served with minimal prep and labor. Sysco has a wide range of marinated sirloin beef steaks in both flats and pucks that simplify the work of creating delicious sandwiches, saving time and labor. Sysco Classic Breakaway Marinated Philly Sirloin Beef Steak has a natural steak texture and comes with a 15 percent marinade solution to enhance the beefy flavor and add juiciness. Individual portions are packed in layers and divided by wax paper, plus they separate with ease when cooking. Pucks are also available, like Sysco Classic Marinated Sirloin Breakaway Beef Steak.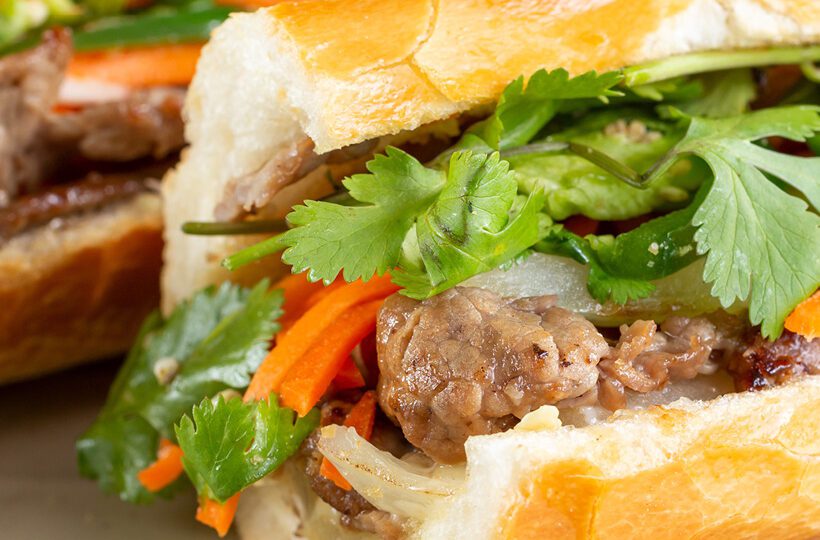 This puck-style product cooks up quickly and efficiently, ideal during peak times. Individually frozen and pre-portioned, you can use just what you need, reducing waste and prep time. So versatile, these easy-to-cook slices are sure to streamline service and allow you to serve hungry customers as quickly as possible! As your trusted partner, Sysco is committed to providing the right solutions to support your business.