The COVID-19 pandemic has challenged the foodservice industry like never before, causing many restaurants to turn to takeout and delivery only or close down completely. More than 8 million workers in our industry were laid off or furloughed, and the restaurant business is expected to lose $80 billion by the end of 2020, according to the National Restaurant Association.
Starting in May, restaurants began to open back up: turning on the lights, firing up the flattops and ovens, welcoming back staff and greeting guests—albeit in a limited capacity. As we move into high summer and beyond, what does this reopening look like? People have been at home for so long that many are clamoring to dine out, even if that requires doing things a little differently.
The Centers for Disease Control and Prevention (CDC) has issued a safety guide to help operators ensure the health and safety of staff and customers, which is the top priority for restaurants reopening at this time. But the road ahead is more complicated than just a blueprint.
At Sysco, our Marketing Services team is here to be your partner through every step of reopening, from consulting on logistics to setting up online ordering and printing customized safety and hygiene signs. You can use our one-on-one "Concierge" service by phone or online, or use Sysco Studio, our do-it-yourself marketing services platform.
In addition, you can access a vast number of "Snapback" resources to guide you through the reopening process.

Safe Service
In its guidelines—which are meant to supplement, not replace, any applicable local regulations—the CDC recommends that staff be required to wear cloth masks.
"If I were reopening a restaurant right now, I would think of it as if I were serving people who are immunocompromised," says Chef Neil Doherty, Sysco's Senior Director of Culinary Development. "It would be that tied down—masks, gloves, everything—because people could be affected by one slip-up." Using face coverings helps protect your staff and customers and communicates that you're taking the necessary steps. The mask also presents a great opportunity boost your brand; you can order custom masks that are emblazoned with your operation's logo.
Every aspect of the dining experience is changing, beginning before the customer even steps into the restaurant. If you don't already have a reservation system, you may want to set one up as a way of controlling crowd size. Next, your menu should be online, disposable or laminated so that it can be easily sanitized. (Sysco Marketing Services can help you set up a contactless menu that uses a QR code to let diners order with their phones.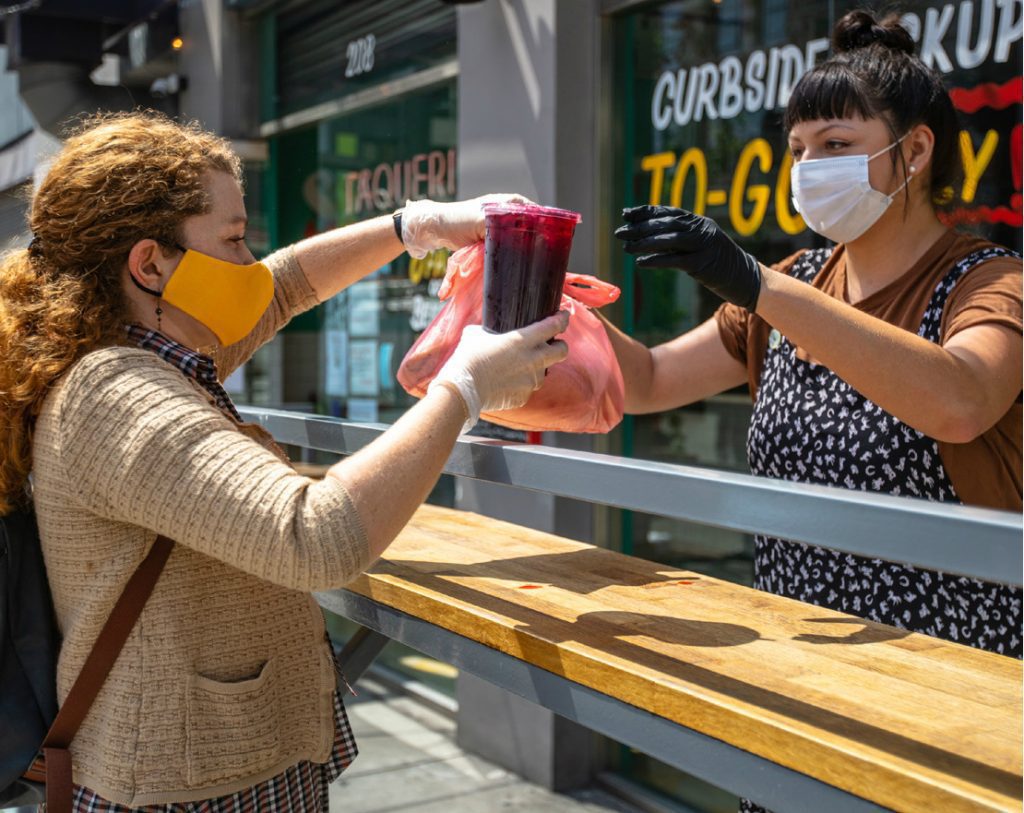 When serving food, safety has to be top of mind. Some operators have started using food coverings such as the old-fashioned dome. Open containers of sauces and condiments on the table should be replaced with single-use, disposable options. Tables should no longer be preset with cutlery. Instead, consider bringing cutlery bundles to the table along with the food or even using disposable cutlery. And, of course, tables should be wiped down and disinfected between customers.
These changes are all intended to minimize diners' exposure to germs, as well as interaction between diners and staff. The CDC recommends monitoring your employees for signs of illness—including testing for fever—and sending them home if they are sick. (Some restaurants are even taking diners' temperatures before allowing them in.)
It is better for a sick employee to stay home entirely, so it's helpful to have a sick leave program in place to make sure they feel comfortable doing so. In addition, you'll want to have some backup workers—perhaps from other shifts—who can step in if someone gets sick. You don't want to be left in the lurch.
Finally, once you've implemented your health, safety and hygiene controls, let your customers know about it. Place signs in your establishment and send out messages on social media. Tell—and show—diners that you are open and ready to welcome them back! Post your menu and specials, plus photos of your dining room and staff. Assuage fears by explaining what you're doing to be safe.
A Simplified Menu
Now is the time to go minimal. Highlight signature dishes plus a few low-cost,
low-labor favorites. When you have fewer items on the menu, you can maintain a simpler inventory and use some of the same ingredients across several dishes to optimize supply.
"I would open up with no more than eight or nine main dishes on the menu," Chef Doherty says. "I can limit my staff and execute quickly." In any economic down-turn, diners are looking for value—and craving comfort food. "People want honest food they can understand," says Doherty. "Burgers, pizzas. No one wants to roll the dice on ego-driven plates right now."
Dawn Fitzgerald, Sysco's Senior Director of Marketing Services, suggests this is a good time to "eliminate the slower- moving items from your menu and focus on the 4 P's: profitable, easy to prepare, portable (if a dish is being served off-premise) and popular. Ask yourself if a dish fits those four criteria before adding it to your menu."
Takeout Tips
Although more restaurants are now open for dine-in, takeout and delivery continue to be critical parts of an operation's bottom line. When creating your takeout menu, concentrate on those dishes that will travel well and even reheat well, as many diners are putting entrées in the oven or micro-wave once they get them home. You need to choose the right dish and packaging.
"Old favorites like pizzas, burgers and pastas—baked or made with short shapes—work great. And Asian noodle dishes such as lo mein are very forgiving," Chef Doherty says. Other foods may need more attention, like placing separate components in small containers to keep the hot and cold apart and to keep anything from getting soggy.
For more on the right takeout containers, see the link below
The New (Ab)normal
Not many industries have been as hard hit by the coronavirus pandemic as the restaurant and hospitality businesses. But we are #FoodServiceStrong, and we are rising to the challenge! Though the dining landscape might never be exactly as it was before 2020, if we work together, we will grow from this disruption and find a better road forward—together.
7 Tips for a Safer Restaurant
Make your restaurant more appealing and keep customers and staff safe by following these recommendations.