Even before the coronavirus pandemic put a stop to dining in, takeout and delivery were big business. According to stats shared at the 2019 National Restaurant Association Show, drive-thru, carryout, delivery and curbside pickup accounted for more than half of restaurant traffic. Now, providing off-premise dining is more than just a smart business move, it's an economic lifeline.
As restrictions ease and dining rooms reopen, takeout and delivery will still be the preferred choice for many consumers, so, having easy, reliable off-premise options will continue to be essential. Whether your restaurant is new to takeout and delivery or you're interested in boosting your off-premise game, keep these key factors in mind.
1. Go contactless
It's important to reassure diners that you offer a safe off-premise dining experience. Limit contact between staff and guests by providing remote ordering options—through a website or app, by phone, or even by text. Offer to take payment over the phone or online to avoid handling cash or credit cards.
Inside, set up a separate station that's dedicated to assembling to-go orders, with staff wearing cloth masks and gloves. If possible, designate a separate entrance and exit for takeout business. And if guests do come inside, make sure you have enough space to follow social distancing guidelines.
Use tamper-proof containers and bags clearly marked with the diner's name. Bring the food to the car and place it directly in their car or trunk. And if you're delivering, whether using your own service or a third party, be sure vehicles are disinfected after each delivery.
2. Take it to the curb
Curbside pickup has become a popular option during the COVID-19 pandemic. If possible, designate a few parking spaces near the front of your restaurant for curbside pickup only. Have dedicated staff take orders, package the food and deliver it to cars. Have them ask for the make and color of the vehicle when taking the order so they can be ready when the customer arrives.
If you're considering adding delivery to your operation, weigh the pros and cons of using a third- party service. There will be added fees (less if you use Sysco Solutions partner, but you'll save by not having to hire additional staff or overburden current employees. You might also reach potential new diners who use the service but have not yet tried out your restaurant.
3. Adjust your menu
Create a simplified menu for takeout and delivery. Pare it down to a short list of easy-to-make dishes that travel well. Think comfort foods like sandwiches and wraps, salads (dressing in a separate container), pizza and baked pastas. Don't forget sides, desserts and beverages. Just because the dishes are easy to make doesn't mean they have to be boring. Chef Neil Doherty, Sysco's Senior Director of Culinary Development, recommends using this opportunity to test your creativity: "Using speed-scratch components or ready-made dishes as a base and then adding your own spin to it will make the truly great stand out from the pack."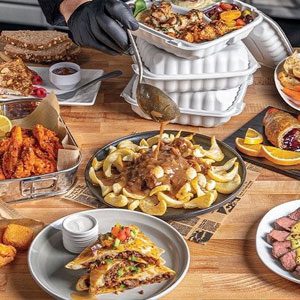 4. Perfect your packaging
Your customers will have a better—and safer—takeout experience when you provide sturdy packaging that maintains the quality and integrity of the food. That means using containers that are durable, won't leak and won't break. Bonus points for containers that also allow for reheating. "Remember, your reputation is in that box," Doherty says.
5. Get creative
The popularity of meal kit delivery skyrocketed this year as more families cooked at home. Get in on the trend by creating your own kits that deconstruct menu items so consumers can re-create your signature dishes at home. For example, if pizza is your specialty, create a kit with your signature sauce, ready-made dough, all the toppings and detailed cooking instructions. Or add a cocktail recipe that pairs with each dish.
Family packs, party packs and holiday dinner packs are also smart additions to your off-premise offerings as restrictions are lifted and people are allowed to gather in larger groups. Create a limited or rotating family-style menu that features a choice of three to five entrées and a couple of sides. Family-style meals are not only cost-effective and efficient, they also provide comfort to families in uncertain times.
"Boredom and anxiety are on the rise, and comfort food is a popular solution for both," Chef Doherty says. "Takeout family-style meals are an excellent way for chefs to support their communities."
How Sysco products can help boost your takeout operation.
Ask your Sales Consultant about how Sysco can help you boost your takeout and delivery operation.