Sumesh and Dimple Bakshi are the husband and wife team behind Gather Cafe Bistro Bar in Talent, Oregon. Beyond worldly flavors and specialty coffee drinks, the neighborhood haven offers customers a cozy space to heal. In the fall of 2020, just hours before the restaurant was set to open, the Almeda fires swept through the city and devastated thousands of homes and businesses. Remarkably Gather was spared from the flames and has become a place of hope for the town of Talent.
Trial By Fire
Sumesh and Dimple began their journey as restaurateurs in their home country of India. After three decades of launching, running, and growing restaurants, they made a move to Oregon. Once in America, the Bakshi's continued to express their love of food by opening several restaurants – Masala Cafe, Bistro & Bar, and Flavor Restaurant & Bar. Despite the challenges brought on by the pandemic, in September 2020, the couple decided to open a fourth restaurant – Gather Cafe Bistro and Bar. Little did they know the pandemic wouldn't be the only historical event to affect their business and community that year.
On September 8th, a fire began on the north side of Ashland, Oregon. The man-made blaze quickly spread due to dry conditions and winds of over forty miles per hour. Within hours the flames destroyed 2,800 structures over a span of nine miles. In all, three cities were affected by the fast-moving flames. The Bakshis and thousands of other families were ordered to evacuate, unsure of what they would find once they returned. "We bought this property just a month before the fire," says Sumesh. "Three-thousand buildings got hit, and Talent was one of the worst [to be] hit. Against all odds, Gather was remarkably untouched by the flames. The fires had come close to the restaurant, but through firefighters' heroic efforts and the changing course of the wind, the building was unharmed.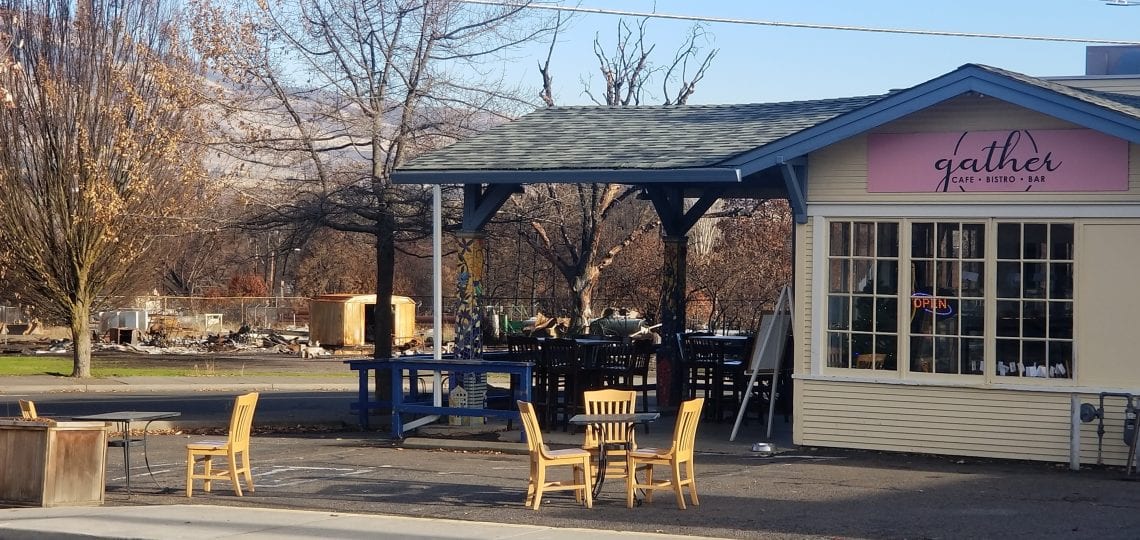 A Place to Gather
Despite the chaos and questionable future of their restaurant, the Bakshis immediately began serving meals to the community. More than food, the couple wanted to serve hope to the people of Talent. A mere month after the Almeda fires, the Bakshis opened the restaurant that would soon be named Gather. "We were in the process of thinking of the name, and we wanted this to be a gathering point [with a] let's fight back kind of spirit," says Sumesh. Dimple adds, "This is a place where people can gather and have hope. [People] told us 'we really need you guys to open and have a gathering place,' so we thought that was [appropriate] to have it named Gather."
Sumesh and Dimple believe that wholesome food starts with fresh, quality ingredients and ends with preparing meals with love and care. Gather's menu features scratch-made healthy meals along with specialty coffee drinks, desserts, and more. Customers have a wide range of organic vegetarian options to choose from, along with gluten and dairy-free alternatives.
Global flavors can be found throughout the menu in dishes like the Moroccan Tagine that features an assortment of vegetables in a special harissa spice blend. The Butter Chicken offers customers a taste of India with its flavorful Indian curry served over basmati rice. American favorites like the Southern Chicken Sandwich and breakfast burritos give customers a savory assortment of local flavors, ensuring that there is something for everyone on the menu.
Looking Forward, Moving Ahead
Sysco Sales Consultant Marne Rickards has been with Gather every step of the way. Sumesh explains, "she has been [informing] us on the local palate [and what foods] will do well. We got to learn a lot of new dishes from [Sysco]. As Marne describes, "Together with our chefs, we were able to help them strategize their new menu and scale it back, so they were able to implement it at their opening. Over time we have helped them add new menu items, including many of the Cutting Edge Solutions offerings."
To add convenience and safety to customers during the pandemic, the Bakshis relied on Sysco for supplies like single-use containers and contactless menu solutions like QR codes. As Dimple describes, "Anything that we need, we just contact [Sysco], and they are very available, very approachable, and very helpful throughout the whole process."
Looking forward, the Bakshis plan to expand their lunch and dinner menu and extend business hours to better accommodate customers. Despite the challenges surrounding their opening, the owners of Gather remain incurable optimists. "Amongst all this chaos in terms of Covid and the fire, we are upbeat. We've been able to retain most of our staff, and we are not in the red. We are very confident that once this is over, and all of us are vaccinated…we'll all be doing very well again."
Gather has truly lived up to its name as a place for the community to gather, grow, and support one another. As the people of Talent, OR continue on the road to recovery, the Bakshis are committed to offering their support at every stage along the way. Sumesh says it best, "The human spirit is strong. Difficulties and challenges are always bound to be there, so you have to be flexible. Even when a horse goes to make a big jump, he goes back a few steps, so [setbacks don't] mean you're losing.
For Sumesh and Dimple Bakshi, life is good. If anyone in Talent, OR ever needs to feel inspired and hopeful, they know where to gather.