In a few short days, the inaugural Holy Smokes Lowcountry BBQ Festival will bring barbeque enthusiasts, pitmasters, and leaders of the barbecue community to Charleston, SC, for a day of all-you-can-eat barbeque, music, and entertainment. Twenty pitmasters from across the country will prepare barbecue samples for eager festival-goers to celebrate the culture and traditions of American barbecue. Proceeds from the event will benefit Hogs for the Cause and MUSC Shawn Jenkins Children's Hospital, who work to support children and families affected by pediatric brain cancer. Organizers of the Holy Smokes Lowcountry BBQ Festival include Aaron Siegel and Taylor Garrigan of Home Team BBQ, Anthony DiBernardo of Swig & Swine BBQ, and Robert Moss, the Contributing BBQ Editor for Southern Living.
Home Team BBQ
Home Team BBQ combines time-honored traditions with classical techniques to create one-of-a-kind barbecue and elevated southern fare. In 2006 the first Home Team BBQ restaurant opened in the south side of downtown Charleston in what was once a mid-1900's gas station. Today the restaurant has expanded into six locations, with a seventh set to launch in 2022.
"Home Team BBQ was born from the concept of combining the complexity of upscale dining with the simplicity of southern food favorites," describes Jonathan Banta, Director of Culinary Operations at Home Team BBQ. "Aaron Siegel, the principal partner, and Taylor Garrigan, the current executive chef/partner, were both white-tablecloth chefs but wanted to get out of that level of service. They opened up a counter-service restaurant where people walk through a line to order food with a full bar, live music, and good energy." The dream team of Operating Partners at Home Team BBQ also includes Sean Daniher and Tony McKie.
Although barbeque is in the name, the scratch-made restaurant's claim to fame is their award-winning Fiery Ron's smoked chicken wings! "We do a dry rub chicken wing that we serve with an Alabama, white BBQ sauce," says Banta. "It's kind of our signature dish. We've won best wings in Charleston City Paper for [countless] years. That's by far the number one seller every year. It kind of put us on the map."
Swig & Swine BBQ
Collaborating on The Holy Smokes Festival is another notable barbeque institution in Charleston – Swig & Swine BBQ, owned by Pitmaster Anthony DiBernardo. As DiBernardo describes, "Myself and Aaron Siegel from Home Team BBQ, who is another Sysco partner here in Charleston, got together a few years ago and were working through [ideas for] a festival. As busy as life is, it kept getting put on the back burner, and then Covid [happened]. Later I got approached by an event space to help them come up with ideas of events to host at their space [which is a] beautiful fifty-plus acre field on the river, just outside of Charleston. So as soon as they approached me, I said I had the perfect event! I reached back out to Aaron and said, 'here's our chance,' and that's how it kind of evolved."
DiBernardo's twenty-five-year culinary background and deep-rooted passion for barbeque led him to open the first Swig & Swine BBQ location in 2014. Today the restaurant has three locations to serve up brisket cooked low and slow, mouth-watering sandwiches, wings, and smoked meats alongside a vast selection of whiskies, craft cocktails, and beers.
DiBernardo grew up in Mantua, New Jersey, where his passion for cooking developed at an early age. "I started when I was fourteen," he recalls. "My grandmother was Italian, so food has always been big in our family. I started cooking in high school, and when I graduated, I joined the military and [started] cooking on submarines – that's what brought me to Charleston. I was on the submarine from 1990-1994, and when I got out, I just stayed and worked my way around Charleston [until] 2013 when I left my job and started working on Swig & Swine."
The concept for Swig & Swine BBQ is a simple one – create a space where good food meets Southern hospitality. "I wanted everybody to feel comfortable," says DiBernardo. "When I set up the first location, the carving block is set up in such a way where I can see the entire dining room and the bar. That was my goal – as soon as somebody came through the front door, I could greet them, [and] essentially manage the whole floor from behind the carving block. I want to [create] that personable experience."
All Are Welcome
The customer experience is of the utmost importance to DiBernardo, who was deeply impacted by an unforgettable event that changed the course of his career. As he recalls, "I was running the old hotel at Kiawah Island Resort where I ran the fine dining room. Our average entree was probably $30-$40 at the time. I was at the hostess stand one evening checking reservations for the night, and there was a podium out front with the menu on it, and there was a family of four – a young mother and father and the children. I overheard the young girl tell the father that it was okay if they couldn't afford to eat there, they could eat somewhere else. I went home, and the question that kept popping up in my mind was, who am I? Who am I to be cooking food with this price tag? That's not how [I grew up]. I went in the next day, and I resigned. It was just one of those moments in life. I knew that I needed to make a change."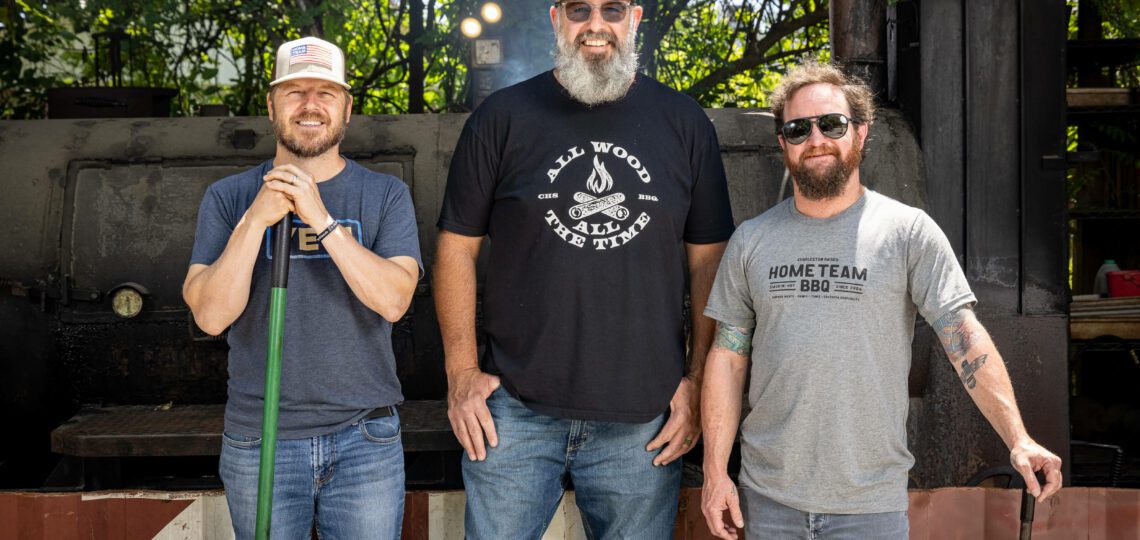 That event has shaped how DiBernardo approaches the customer experience at Swig & Swine BBQ, and undoubtedly the sense of community that Holy Smokes Festival goers will experience. As Banta explains, "It's really Charleston's first-ever barbeque festival where we've joined with all of our friends from all over the country to come together and work as a team in the hopes of raising money for two really important charities. I think the reputation that Home Team, Swig & Swine, and the other Charleston restaurants participating have had inside this community [is something] people have grown to trust." DiBernardo adds," We've basically set up a barbecue festival that Charleston has never seen."
In addition to a plethora of mouth-watering barbeque from some of the best pitmasters in the country, the festival will feature music from headliner Elizabeth Cook and an exciting assortment of vendors. To donate to families affected by pediatric brain cancer or to volunteer at the Holy Smokes Lowcountry BBQ Festival, click here.
Sysco is a proud sponsor of the The Holy Smokes Lowcountry BBQ Festival.