As many states have re-opened, it's certain that operators will begin to see families return to their restaurant dining rooms. Operators know that sometimes their biggest critics come in the smallest packages – kids! That is why it is always a great idea to incorporate a robust kids' menu that pleases all palates. Kids' taste buds range from adventurous eaters to picky hard-to-pleasers, so here are a few tips and tricks to help you plan for big success with your smallest diners.
If They Build It
A menu that engages a child right from the start is the best first step to ensuring a successful family meal for your guests. Build-a-meal menus are a big hit with children and parents because they allow the child to take control of food choices from a list of parent-approved selections, like grilled chicken, carrot sticks or apple slices (don't forget the dipping sauces). Yogurt and applesauce pouches are also in-demand kiddie favorites that parents love. The mix-and-match nature of the menu isn't just fun for diners; it also helps operators and kitchen staff avoid costly and confusing substitutions that come with a more rigid kids' menu.
Little Big Kids
Big kids and tweens may have outgrown the novelty of the kids' menu, but may not be ready for the full-sized portions that come with adult entrées. Consider a place on your menu for young adults who are ready for more sophisticated dining selections at reduced portions size and price points. These young diners are typically more adventurous eaters, making them likely to shy away from the fried finger foods of typical kids' menus, and are willing try the type of cuisine they see their parents enjoying. Pairing these grown-up options with a familiar side item like pasta or fruit salad can ease the transition from the kids' menu to the adult table.
Points for Presentation
Kids buy into foods right away when they are visually appealing. That's how favorites such as happy face pancakes remain popular year after year. Presentation matters, and while a kid's dish doesn't require meticulous food styling, simple solutions can make a big difference. A kid's bento box can provide a fun and familiar presentation for kids' meals. The build-a-meal approach allows for each menu selection to fill the individual compartments, which is then finished off with a signature dessert. Children and parents will love to see the whimsical tray as it approaches the table, and this small presentation detail can contribute to improved customer loyalty and positive word of mouth among your customer base.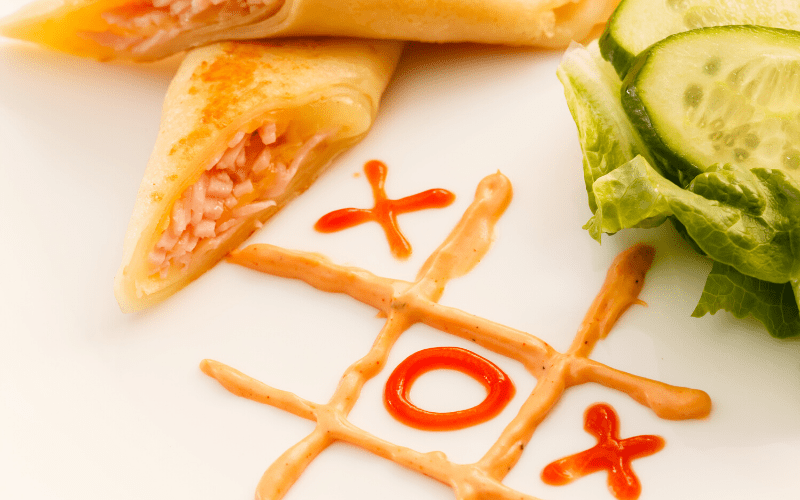 Notable Nutrition
Nutritional kids' meals should be 600 calories or less and offer items from two or more food groups. Operators may offer healthier options for children with a focus on lean protein, plant-based alternatives, whole grains, low-fat dairy, and fruit and vegetables while limiting the availability of unhealthy fats, sugars and sodium. Parents looking for a meat alternative for kids who love chicken nuggets will find Raised & Rooted Nuggets Made With Plants a perfect plant-based solution. Sysco provides a multitude of healthful kids' menu options for any concept.
Simple Operator Tips for Kids' Meal Success:
Keep it simple and pure. If a child orders plain buttered noodles, don't get fancy with the garnish. It only takes one fleck of chopped parsley to tank a meal and trust us – the parents won't forget.
Allow for plenty of options in your build-a-meal menu program. It's a great way to cross-utilize ingredients and products from other dishes and dayparts.
Make it known that milk and juices are available beverage options. Bonus points if the drink is included in the price of the kid's meal.