Waffles, grits and Benedicts are standards on the breakfast menu. But as consumers become more sophisticated, chefs are upping their game, using high-end ingredients and technical prowess to make these once-modest dishes sing. What can operators do to elevate their own breakfast dishes from satisfactory to extraordinary?
If I were advising someone about starting up a breakfast operation, I would say offer clean, appealing plates of food made from fresh ingredients.
Chef Brian Dorsey
Set Your Plate Apart
"Most customers are looking for plates that go the extra mile," says Chef Brian Dorsey, Culinary Consultant at Sysco Denver. "When you add something to a plate, don't just do it because it looks pretty, but because it pulls the dish together, making it more flavorful and visually appealing." For example, our Lemon and Thai Basil Blueberry Waffles, made with Sysco Classic Blueberry Muffin Batter, are topped with homemade preserves to more fully develop the blueberry flavor. The Thai basil, meanwhile, is an unexpected counterpoint. "It's all about layering the flavors in interesting ways," Dorsey says.
You can also elevate a dish by adding unusual, exotic or luxurious ingredients to the mix. Avocado toast is a simple concept, but one that continues to be reinvented by chefs—and enjoyed by diners—all across North America. Try adding not only rich smoked salmon to your avocado toast but also a hint of salty prosciutto to further set it apart.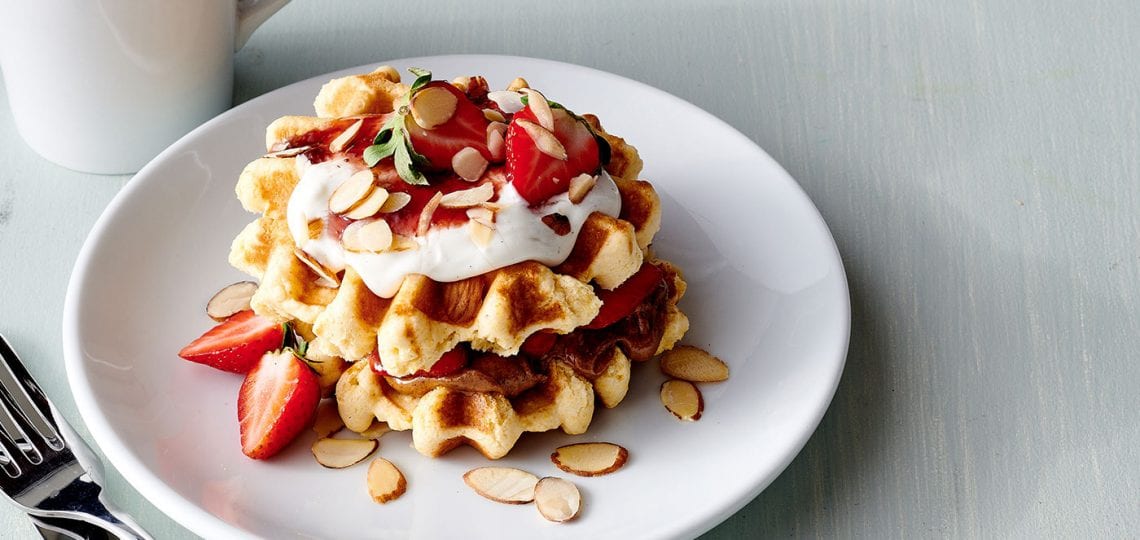 Rethink Waffles
Waffles are perennially popular. But instead of topping them with the classics and stopping there, consider using them as the basis for a deluxe breakfast sandwich, as we've done with the Crab Cake Wafflewich. Not only does this plate reinvent the breakfast sandwich concept, but like the avocado toast, it also takes advantage of the current seafood trend, which is gracing breakfast menus across the country. Whether you mix smoked salmon or crabmeat into scrambled eggs or use smoked trout or lobster in a deluxe Benedict, seafood is a surefire way to elevate a morning dish and add value to the plate.
Another great idea for remaking the waffle—and layering flavors—is to stuff ingredients inside the batter before cooking instead of, and in addition to, placing them on top. This can be done using speed-scratch ingredients such as blueberry muffin batter or simply by adding the flavorings of your choice to Sysco Classic Waffle and Pancake Batter.
A Healthy Margin
Many people think breakfast is a low-margin daypart. "The bills may be small, but the margins are usually high because the ingredient costs are so low," says Bruce Barnes, Sysco Menu Consultant. Eggs cost less than half as much as most proteins. Batter-based dishes "cost little but seem elegant when you dress them up," Barnes says. "Just go easy with steak and eggs, or you'll miss out on the benefits."
Be a Champion of Breakfast
Whether you serve retro pancakes with a twist or protein power bowls, morning service has become a complex but profitable daypart. So profitable, in fact, that breakfast has eased into the afternoon, and brunch has quietly crept from weekends to Friday and then Thursday. "If I were advising someone about starting up a breakfast operation, I would say offer clean, appealing plates of food made from fresh ingredients," says Dorsey. "You need great service and an inviting atmosphere. And finally, give people a reason to come back."