Perhaps the best way to enjoy fried fish is by the ocean, where you can smell a salty breeze and watch the day's catch being hauled ashore. But the lack of a sea view doesn't stop landlocked consumers from ordering plenty of seafood. In fact, the lean, healthy protein and omega-3–packed nutrition of fish and shellfish have never been more in demand, whether you're on the docks of San Francisco or in downtown Des Moines. This is especially true of irresistible fried fish. Whether it's breaded or lightly battered, everyone loves crispy, golden brown seafood, especially when it is sprinkled with salt and pepper and paired with a tangy sauce.
Successful Seafoods
In the past five years, 44 percent of American and British consumers have added more seafood to their diets, according to Cargill's Feed4Thought Survey, with shrimp, salmon and tuna at the top of the list. There will always be die-hard seafood fans—those who love to pick apart crabs' legs piece by painstaking piece, or slurp down oysters on the half shell with no chaser. But even patrons who are normally squeamish about our sea-dwelling friends still appreciate the most accessible of seafoods: good old-fashioned fish and chips, whether wrapped in newspaper or served on bone china. Although it is usually made with cod, any firm white fish works well. You can also get creative and follow Sysco chef Greg Meeker's lead by using salmon instead for fantastic results. Or take the dish upscale by using flavorful halibut when it's in season, typically from mid-March through early November.
Breading fish comes out more consistently in the end, but it re- quires a three-step process. First dip the fish fillet in flour, then egg and finally in the breadcrumbs.
Flour basically acts as the food glue, the egg activates the glue and aids browning and the bread- crumbs stick to all that. Don't forget to add salt and pepper.
Chef Greg Meeker
Fried fish of any kind, as well as fried shrimp, fried calamari or fried anything, pairs perfectly with Sysco dips and sauces. Use them as is or customize to suit your taste by adding fresh chopped herbs such as parsley and dill or spices like turmeric or paprika. Adding a spice paste like Korean Gochujang to mayonnaise is also an easy way to make your own sauce. Squeeze a lime or lemon, add salt and you're there.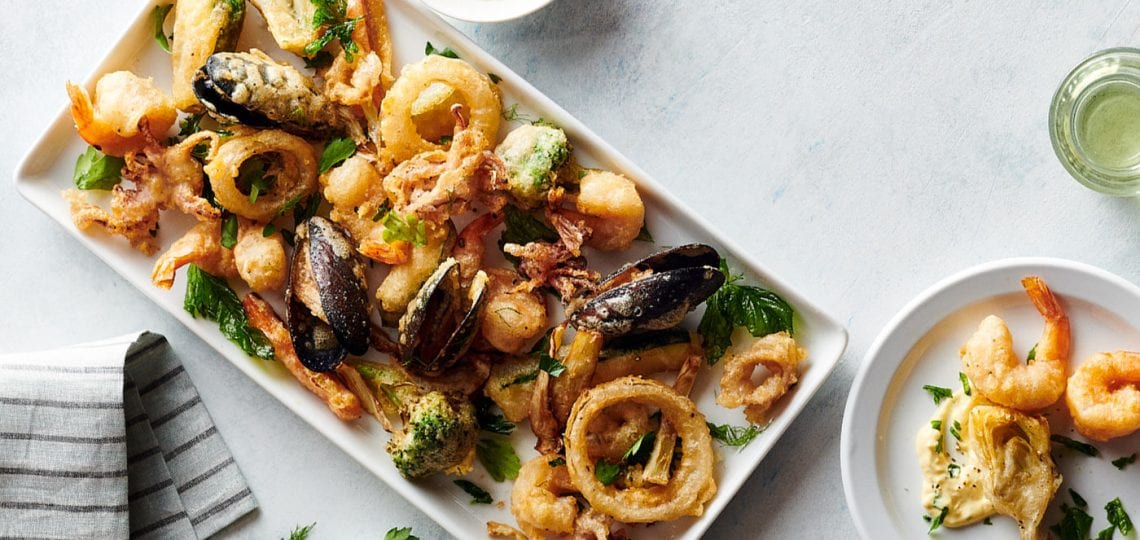 A Delicious Mix
Italy, which is surrounded by ocean on three sides, has its own version of fried fish—the fritto misto. Literally translated as "fried mix," it is a delicious combination of seafood and vegetables coated in a light tempura-like batter and fried, then served with a simple sauce or just a lemon wedge. You can use octopus, calamari, small fish like fresh sardines and chunks of bigger white fish, and vegetables such as sliced eggplant, sliced zucchini or whatever you have on hand. The key is the light coating and right frying oil. The ingredients should shine through and not taste greasy or loaded down with a heavy breading or batter. Top the dish off with chile flakes and a little sea salt and serve.
If you've been hesitant to add more sea- food to your menu, take heart. Proximity to a coast or lake is not a requirement, as Sysco distributes its high-quality, exquisitely fresh Portico Seafood all over the country. And a plate of ever-popular fish and chips or crisp and satisfying fritto misto is a great way to start.