On March 16,
the day New York mandated shutting down restaurant dining rooms, the staff at Heritage
Hill Brewery, located in the town of Pompey, met to discuss how they should
move forward. After speaking with their Sysco rep about potential options, it
didn't take long before they decided to set up a grocerant that featured
prepared hot food to go, heat-and-serve family style meals and fresh groceries.
To meet
their customers' needs for having food and groceries delivered and expand their
community reach, they rented a delivery van , which provided quick and easy access
to customers and a convenient, contact-free experience. Two days later, they
opened their doors with this new business model and haven't looked back since.
During the first week of operating as a grocerant, they advertised heavily on social media and ran select print and radio advertisements to reach a larger (and new) customer base. Not only did their marketing efforts pay off, their revenues are higher this year than the last and steadily growing. Their offerings have also grown and adapted to meet local needs as the weeks pass.
By adding an additional revenue stream, Heritage Hill Brewery was able to retain 75% of its employees, and the restaurant has created a strong local reputation by connecting to the community and meeting its needs. Whether this type of hybrid grocerant business model will be the new normal or not, communities will always remember the willingness to help and restore a sense of normalcy.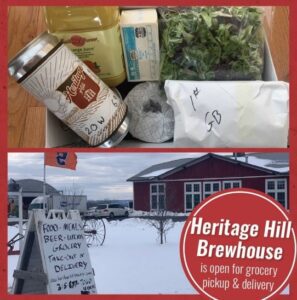 With the
help of local businesses like Heritage Hill, we will come out of this time with
a greater sense of community and support for one another, #FoodserviceStrong.