Chef Abby McBride is changing lives in Portland, Oregon, as the Food Service Manager for Central City Concern's Letty Owings and Hooper Detoxification Stabilization Center. Central City Concern (CCC) is a 501(c)(3) nonprofit agency that serves single adults and families in the Portland metro area that are striving to overcome homelessness, poverty, and addictions. The leap from working in restaurants to working directly with patients at social services facilities was a daunting transition for Abby, but one that has produced unexpected and rewarding outcomes.
Restoration and Recovery
Letty Owings is a residential treatment center for women and their children. "It's a place where women that are struggling with addiction can come and live with us, bring their children, and get counseling," describes Chef Abby. "We teach them how to move on in the world and be part of society." As Kitchen Manager, Abby is responsible for preparing three daily meals for approximately 24 mothers, children, and staff members.
Abby also manages the Hooper Detox Stabilization Center's kitchen – an inpatient and outpatient detox center offering medical and clinical services. "Addicts come in, and they can stay there and have a safe place to detox with medical attention before they move," she explains. "At Hooper, we feed roughly 55 people a day, three meals a day and three snacks."
After spending nearly two decades in the restaurant and hospitality industry, working for a nonprofit was not what Chef Abby had planned – neither was her decision to become a professional chef. "I've always cooked, but I never really thought of it as a profession until I was in my twenties," she explains. "I actually started cooking professionally in Hawaii. I worked at a pescetarian restaurant for a long time, and I really got excited about it and wanted to learn so much more…so I came back to Oregon in 2004 to go to the Western Culinary Institute.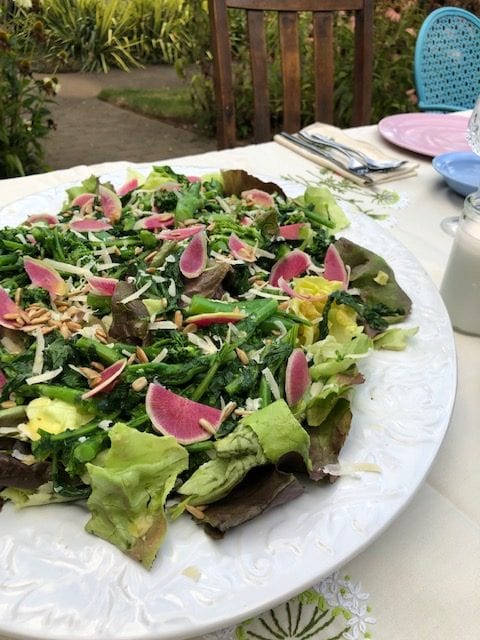 Saying Yes to the Unknown
In 2019, when Chef Abby interviewed for her current role at CCC, she had no idea that the position would take her far beyond her comfort zone. "In all honesty, when I first came and interviewed here, I didn't really know the full extent of what the job was going to be," she explains. "I just figured [that I would be] going into the kitchen and cooking for these people. I didn't realize that there would be so much interaction with the clients. The social aspect was a little scary, but now it's definitely been the most rewarding part of the job."
The reward of working with those on the road to recovery comes with unique challenges that require compassion and patience. "The biggest challenge that I've come across is the social work aspect," says Abby. "[When] clients come in that are really challenging, I struggle with how to maintain a positive relationship with them. [However], watching those things shift, and being able to communicate with people and seeing them grow as an individual is so rewarding."
Introducing clients to a whole new world of food options has been an exciting part of Chef Abby's work at CCC centers. As Abby explains, "a couple of days ago, I looked out in the dining room, and there's a one-year-old that's eating braised kale – that's very rewarding to see." Chef Abby has a strategy for creating meal options that are healthy and appealing to clients who are unfamiliar with certain food ingredients. "I really like the whole [idea] of tasting the rainbow when it comes to fresh ingredients," she describes. "The more colorful your plate, [the more] nutrition you're getting, but I also want [the food] to be approachable. I've been coming up with ideas to make fast food variations of things made with fresh, wholesome ingredients, which has gained their trust in me. [Now], when I make something that may seem scary because they've never heard of it, they're excited to try it."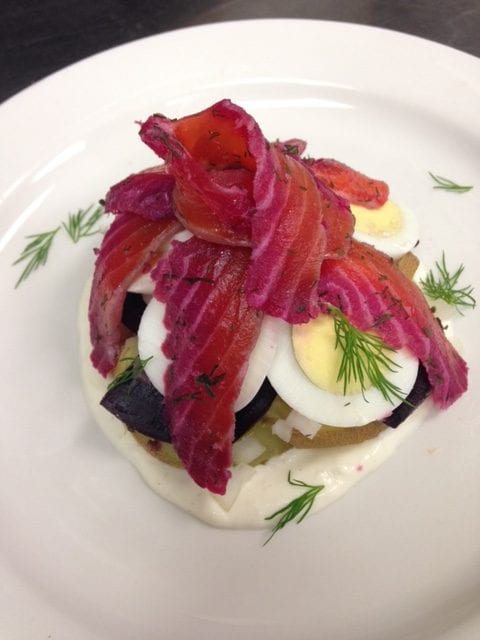 Sysco Support and Solutions
Sysco has offered Chef Abby a wealth of resources to support her program. "I talked to [Sysco Culinary Consultant] Tse about my goals for my program here, and it really falls into play with what she has done in her career," says Abby. "I have this vision of a cookbook that starts with infant food then goes through a family of four. When moms graduate treatment, they could take this with them [to] have some tools in their arsenal. Pre-Covid, I had cooking classes lined up and all of these things that just helped expose these moms to new foods…and food budgeting, [but] Covid has thrown a wrench into that. [Tse] is helping me connect with nutritionists that she's worked with in the past and is giving me some ideas on how to get kids excited about foods and vegetables. She's really just super creative and has a ton of great ideas."
Throughout the Covid-19 pandemic, Sysco has supported Abby and the center to safely provide residents with wholesome meals in compliance with social distancing protocols. "We used to serve everything on plates and trays, and now we're trying to have very little contact," she describes. [We've had] to shift everything to paper, and [Sysco] has really helped support us in getting these products.
These efforts are part of Sysco's Restaurant Rising campaign – a dynamic collection of business solutions and programs to help business owners succeed in an ever-changing environment. Resources and offers within the program include free restaurant marketing tools, discounts on services, exclusive customer webinars led by our experts, and other Sysco business solutions. Looking forward to the future, Chef Abby is excited to continue providing fresh ideas and exciting food options to the courageous people at Central City Concern, striving to better their lives. "My team and I are working on some big projects that I'm looking forward to brainstorming with them and seeing where we can take the food service department," says Abby. "It's exciting to work for a company where you can build a team and collaborate because everyone's great mind has some wonderful ideas." Chef Abby's work at the centers has been a labor of love, and a meaningful adventure that started with her willingness to try something new. As Abby proclaims, "It's okay to pursue things that are scary. It can turn out to be one of the best things you can do."