Velma "Mama J" Johnson grew up in a family of 13 siblings on the west side of Richmond, Virginia. As her eldest son, Lester, remembers, every holiday was warmly celebrated at her parents' large house with plenty of delicious food and boisterous festivities.
The idea behind Mama J's restaurant, where Mama herself (age 73) still presided over the kitchen before COVID-19 and Lester manages the business, was to re-create both the homecooked Southern soul food and convivial, joyful feeling of a family get-together—every day of the week.
"When I was growing up, all my cousins, my aunts—everyone would come from out of town and converge on grandma's house at Thanksgiving and Christmas," says Lester Johnson. "My uncles would be there watching the football or basketball game. My aunties would put out a huge spread on the dining room table. It was this great buffet of food, all kinds of pies, and people would line up and go around the table. It was the epitome of what family dinners are all about."
When Lester and Mama J opened the restaurant in 2009, after his grandparents had both passed away, "we wanted to create a place where people could come and hang out and see people they hadn't seen in a while and enjoy good food and camaraderie." And the venture has been a success. Johnson and his staff have always made an effort to greet customers by name and have developed a loyal following. The menu has remained consistent, according to Johnson, with a focus on Southern soul food staples such as fried catfish, fried chicken, macaroni and cheese, and collard greens.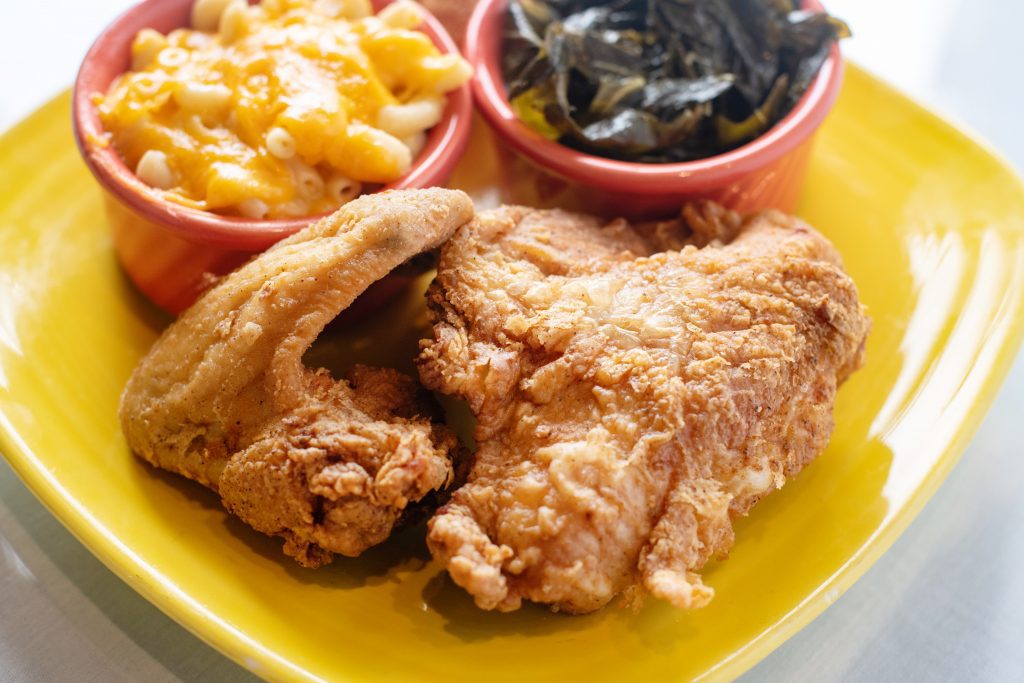 "These are recipes from my mom, my grandma and my great-grandma," says Johnson. "Old Southern recipes that enslaved people and African Americans used to make when there weren't any more prime cuts. That's what soul food is." As for Mama J, she doesn't have any formal training, hates when people call her a chef, and insists on being called a cook instead. "She basically trained our staff to cook the recipes that she's been cooking all her life."
The restaurant was still growing when COVID-19 hit. Unlike some operations, the hit to Mama J's could have been worse. Johnson found that he did not have to adjust his menu at all, as soul food is comfort food, and also works well for takeout.
Mama J's has fully embraced takeout and delivery. The restaurant was already using Sysco's POS platform for inventory management and continues to do so. This helped Johnson avoid shutting down altogether and pivot from dine-in straight to off-premise, which already represented about 40% of their revenue before COVID-19. At a certain point, the takeout food prep has become almost like an assembly line.
"If we see we've got 15, 20 tickets on the board, we start telling customers to come pick up in 45 minutes instead of 20 to 25 minutes," says Johnson. "The food comes out of the expedite window, boxed up. We double-check it, take it to the bar, bag it up, staple people's names, put receipts on the bag … I'm really not sure how, when things start to open back up, we're going to incorporate dine-in into the system. Maybe it will be easier because we'll see fewer to-go orders." Johnson also anticipates the possibility of moving to a more "casual dining" setup instead of full service.
"My advice to other operators would be to look at what you're doing and make sure that you are incorporating the lessons you've learned over the past year into the way you do business," Johnson says.
Johnson values working with Sysco and with Sales Consultant Stuart Halpert. "I've been with them for a long while and the relationship has been great. Stuart makes a point to come over here every Thursday and sit with my GM, Chris Ancarrow, and make sure that everything is square. I trust Stuart is getting me a fair deal, and that when I have a problem, I can call him up on the weekend, late at night, and that problem is going to get resolved posthaste."
What's next for Mama J's? "We're in growth mode," Johnson says, as he describes expanding into the building next door, where they will have a 700-square-foot kitchen and 1,700-square-foot dining room, with space set aside just for takeout and catering.
Grandma would be very proud.