Consumer tastes are always evolving. As millennials and Gen Zers become the new wave of restaurant consumers, they are changing the foodservice landscape. Heavily influenced by digital media, they care passionately about their health and that of the planet. And they are driving healthy lifestyles such as plant-based/vegan and high-protein diets like keto and Whole30.
According to a recent Technomic survey, "The majority of consumers who follow a specialty diet describe themselves in flexible terms, such as 'semivegetarian' or 'flexitarian.'" What they are looking for is options. Operators can attract a broader crowd by offering menu choices that cater to various dietary lifestyles, such as plant-based alternatives, meatless versions of existing dishes, fish-based dishes and high-protein snacks. Sysco has both the products and resources to help navigate these shifting consumer behaviors.
The majority of consumers who follow a specialty diet describe themselves in flexible terms, such as 'semivegetarian' or 'flexitarian.'
Technomic Survey on Plant-Based Eating
Plant-Based Options
Right now plant-based eating is the most talked about food trend—and it's one that has stickiness. Plants are here to stay," says Chef Neil Doherty, Sysco's Senior Director of Culinary Development. "Consumers still want food that tastes good, but many are also looking for food to be their fuel. They want their food to provide nutrition for their body and they want to
be empowered with menu choices that support their personal sense of wellness—however they define it." As more consumers go green and pile their plates with plants, Sysco saw the need to build more plant-based options into its assortment. "The launch of our new Sysco Simply brand is how we are going to support our customers with the plant-based products they need to bring variety and choice to their customers," says Caitlin Armstrong, Brand Manager for Sysco Simply.
Vegetarian entrée options have always been based around vegetables and grains: stuffed squashes, tofu, pasta and rice dishes. Now consumers are also looking for plant-based proteins that have the taste, texture and satisfaction of meat. Sysco has responded to the market demand by developing the certified-vegan Sysco Simply Plant Based Meatless Burger Patty, which has a meatlike taste and texture and can be used in all of your favorite burger preparations. We have featured it here in the Feisty Feta and Avocado Burger (pictured). Another new alternative protein, Sysco Simply Plant Based Ground Bulk, has the same attributes as the burger and can be used for preparations such as tacos, vegan meatloaf or wherever you would normally use ground beef. Both products are gluten-free, dairy-free and non-GMO.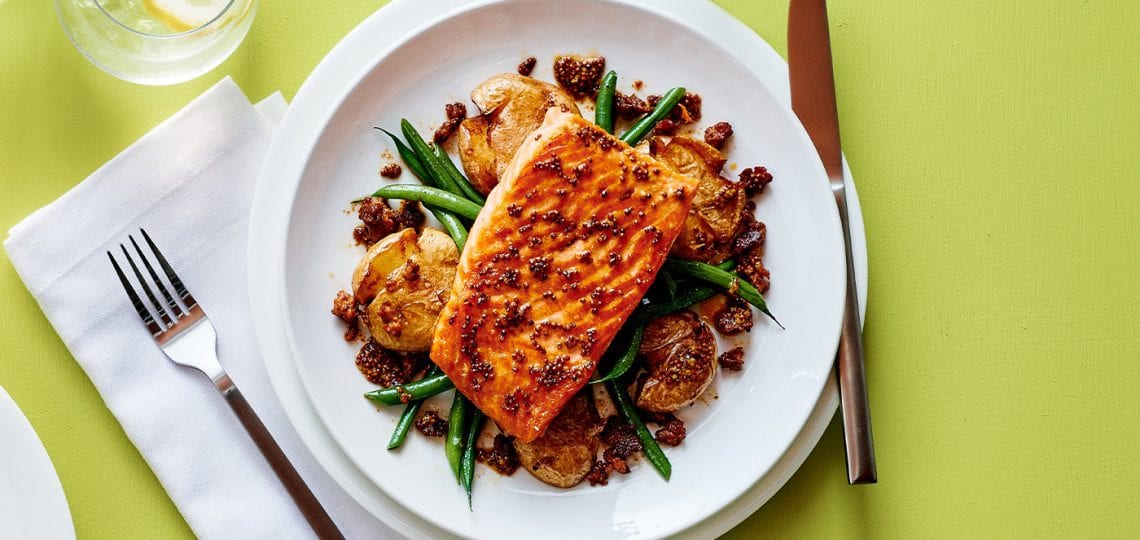 Seafood Stands Out
A naturally lean protein, seafood is a beneficial addition to any dietary lifestyle—whether or not someone calls themselves a pescatarian (a vegetarian who incorporates seafood into their diet). In fact, shrimp and many fin fish are known for providing a powerful punch of protein, without much saturated fat. Although shrimp and salmon reign as the most popular seafood among U.S. consumers, creative operators can also achieve great success by serving something slightly different, like a delicious grilled branzino with roasted beets or fillet of snapper rubbed with jerk spices.
Although we usually think of seafood as a dinner or lunch ingredient, you can use it across the day parts and across your menu to make the most of your inventory. For example, elevate and lighten up a breakfast by replacing smoked meats with seafood. Smoked salmon makes a terrific substitute for ham or sausage, and also raises your check average by several dollars.
Diners have become increasingly interested in the wholesome- ness of their food. Sysco's Portico Simply tier of chemical-free, additive-free, all-natural seafood meets this market demand. All of Portico's seafood undergoes stringent supplier controls and quality assurance processes. So, whether you're serving a delicate dish of seafood pasta or a platter of seafood, you'll have the confidence of unrivaled freshness and quality.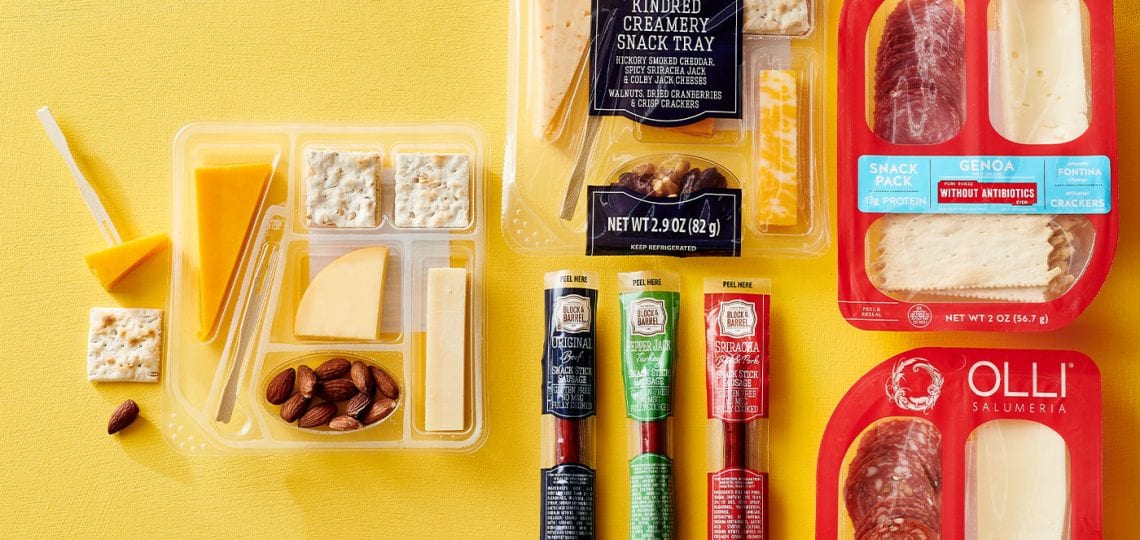 High-Protein Snacks
The grab-and-go phenomenon is here to stay. Consumers today—from university students to busy parents—are not necessarily sitting down for three square meals, but are instead partaking in several smaller meals and snacks throughout the day. More and more, diners are looking for nutrition-packed, high-protein snacks that are not only tasty and high-quality but are also convenient enough to take in the car, to work, to pick up the kids—wherever their day may take them.
From old-school low-carb diets like Atkins to keto, paleo and Whole30, protein is one very popular nutrient—and for good reason. Unlike carbs and fat, protein makes you feel fuller for longer—which also makes it the perfect snack.
Sysco's Block & Barrel Snack Sticks, which come in tempting flavors like Sriracha and teriyaki, can be conveniently placed next to your point of sale. They even come with their own custom-designed display case.
The Block & Barrel Kindred Creamery Snack Trays feature combinations of protein-packed cheese, nuts, crackers and dried fruits. And Olli Salumeria Snack Packs from European Imports offer the perfect mix of Italian-style cheeses and salami. Place these in your refrigerated case along with carbonated beverages, and you've got the perfect snack or light lunch to go.
Build Your Own Box
To make your own protein-based snack packs for consumers on the go, use your imagination plus plain plastic four-square containers. Simply fill with the proteins of your choice. Start with a wedge of cheese and sliced deli meats from Sysco's Block & Barrel brand. Fill in the squares with items like edamame; turkey or beef jerky; roasted almonds, cashews or walnuts; vegetables with hummus; and a hard-boiled egg. You can balance out the box with fruits that travel well, such as green and red grapes and apple slices.