Global beef dishes are hot. Items such as Korean bulgogi and Brazilian picanha steak are joining the mainstream. Even the all-American hamburger is turning Japanese with the use of wagyu beef, bonito flakes and other umami ingredients. Many ethnic dishes use value cuts to achieve tender, juicy results. Secondary cuts such as chuck and flap meat not only add rich, meaty flavor to a dish, but they also give great value and help reduce food waste.
"Rib eyes and sirloins are important, but in the industry we try to use the whole animal," says Jocelyn Magno, chef and meat specialist at Newport Meat of Nevada. "It's important to give the same respect and care to every cut, including the chucks and rounds."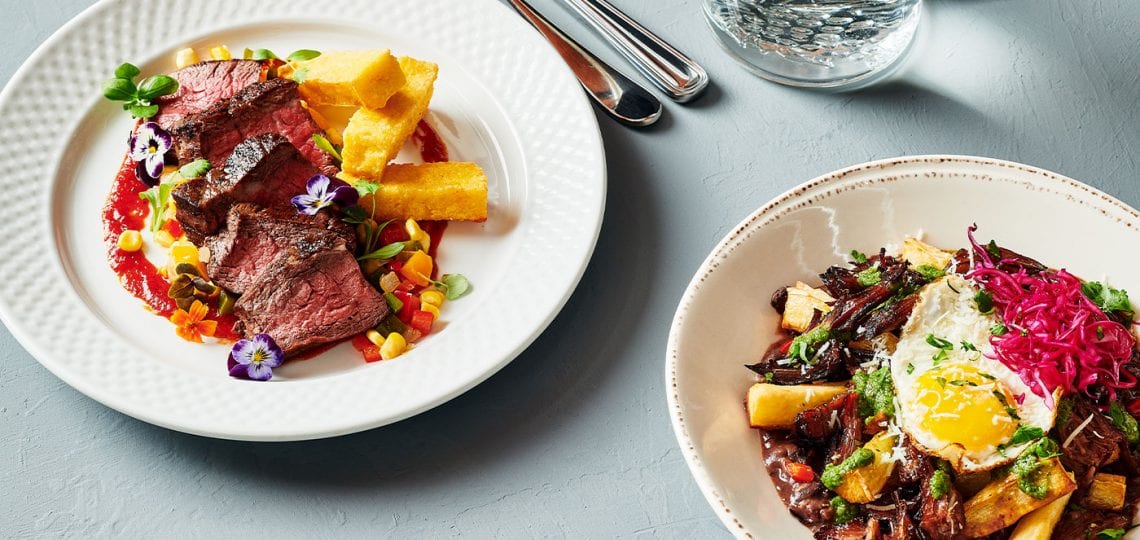 Latin
Latin American cooking today is thriving.
Restaurants that serve authentic regional Mexican cuisine are all the rage, and creative chefs are mixing Latin flavors and ingredients with other global cuisines to form sophisticated mashups and their own vision of fusion cooking.
In his colorful fusion dish, Vaca Frita With Yuca Poutine, Chef Juan Rosado combines Cuban cuisine with Canadian poutine and tops it with the Argentinian staple chimichurri sauce, flavored with tropical banana. (As the centerpiece, Rosado uses Certified Angus Beef® lifter meat, an underutilized cut from the ribs.) The result is a medley of colors and flavors. For his beautiful Sliced Picanha With Cornmeal Fries, Chef Luigino Tripodi uses a different product from Buckhead Pride/Newport Pride: Certified Angus top sirloin, with the fat cap off. In this elegant dish, the meat is seared for a few minutes over a flame, and then served with cornmeal fries.
Whether you are looking for more creative ways to menu beef or great ideas for optimizing profit from each beef serving, "Our specialty meat companies are here to help customers with their beef programs," Magno says. "This includes both talent and technology. Not only do we use high-tech machines to make precision cuts specifically for the Asian and Hispanic market, but those cuts are informed by our specialists in the different cultures." As far as using value cuts, Magno adds, "It's a win-win situation. We chop it and bring consistency, which not only helps operators save on labor per-serving costs, but it also helps eliminates waste."
Asian
Korean food has become so popular that often you can enjoy a bibimbap or bulgogi at a mall or airport food court. It has become almost as popular as Japanese, Thai and Chinese cuisine, with Filipino cooking close behind. Americans' tastes are expanding—opening up to new flavors and ingredients, including value cuts of meat.
Don Jante owns Flip 'n Patties, a Filipino-American joint in Houston. Although most of the dishes are Filipino, the operation is perhaps best known for its Akaushi burger (see Chef Bryan Hudson's version on above), made from Texas wagyu beef that is bought from a local purveyor through Sysco. Growing up, Jante ate the Filipino food cooked by his mom: simple things, he says, like vinegary adobos, and sisig, a special dish made from off cuts of pork. "In countries like the Philippines," says Jante, "they utilize every part of the animal. It's not a luxury."
In Chef Jason Knapp's Bulgogi Nachos recipe, Butcher's Block sirloin is sliced very thin before getting mixed into a global mashup. The sweet, tangy flavors that work in Asian marinades and sauces are just as effective in slow braises, such as Chef Colin Greensmith's Korean-Style Short Ribs. A relatively inexpensive cut, short ribs take time to draw out their rich, beefy taste.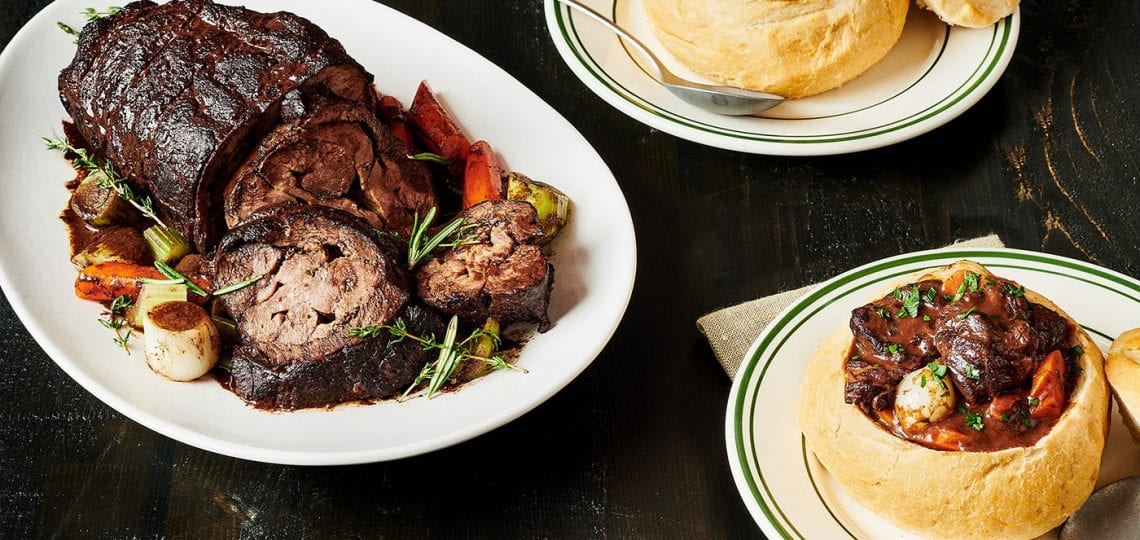 European
When the weather starts to cool down, nothing satisfies like a rich, hearty beef dish. Take a value cut of beef and stew or braise it in the wet and dry ingredients of your choosing. You can use Asian flavors, as Chef Colin Greensmith does, or the traditional European combination of aromatic vegetables, red wine and beef or chicken stock. In the end, you have a delightfully fork-tender piece of meat. Braises have their place in a busy kitchen, however, as once you place the meat in the oven, your work is done for several hours, so you can work on other tasks while it cooks.
If you would like to serve more rich meat braises but don't have the time and staff to devote to them, we have the answer: Order our new thaw-and-heat Sysco Classic Sous Vide Bone-In Short Rib, Sysco Imperial Sous Vide Braised Lamb Shoulder or Rosemary & Mint Lamb Shanks.