With the price of chicken wings soaring, operators are on the lookout for ways to keep food costs manageable while keeping chicken lovers happy.
A number of foodservice chains have started offering boneless wings, made from versatile breast meat, to keep menu prices affordable. But shifting to other fried chicken preparations is a logical plan B. Applications such as Sysco Classic Fresh Tenders are enjoying a wave of popularity that shows no signs of diminishing.
With so many restaurants jumping on the fried chicken bandwagon, the biggest challenge today is figuring out how to stand out from the crowd. Consumers have come to expect a little personality in that fried chicken; here are a few ideas to turn a ho-hum plate into something memorable.
Find Your Brine
Southern cuisine has long relied on buttermilk to develop flavor in fried chicken. Chefs can dip chicken in Wholesome Farms Fresh Buttermilk just before cooking, use it as a brine to tenderize the meat, or even slow-cook the chicken in buttermilk. Brines from pickles and jalapeños, beer and other liquids help create stronger flavor profiles as well.
Nashville Style
Among the most popular variations on a theme is Nashville hot fried chicken, which starts with a spicy buttermilk brine, takes two dips in the frying oil, and soaks up even more heat with Sysco Imperial McCormick Cayenne Pepper and hot sauce. It's typically served over white Pullman bread with sweet pickles.
Korean Heat
Coated with a whisper-thin batter, twice-fried and brushed with gochujang (Korean chili paste), this version appeals to consumers who prefer simple yet bold flavors. Often served with a sweet dipping sauce, this version also taps into the appetite for dishes that pair sweet with spicy.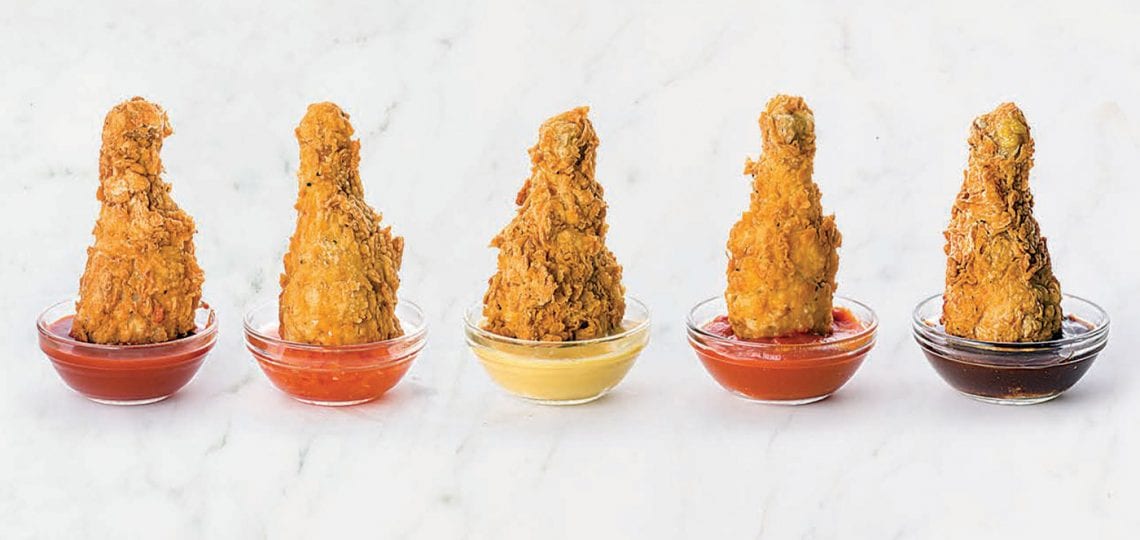 Not Your Basic Breakfast
Chick-fil-A popularized the chicken sandwich, but chefs across the country have responded with their own homages and spins, usually with upgraded bread. Chicken at breakfast is no longer a novelty either, as restaurants have warmed to the idea that patrons crave chicken before lunchtime. Chicken served on biscuits, fried chicken with waffles, chicken breakfast burritos and other breakfast dishes are growing in popularity.
Dark Meat Takes Center Stage
More operators are turning to dark meat, especially in the form of boneless thighs found in fried chicken sandwiches. The less common and richer-flavored alternative to breast products appeals to consumers from cultures where darker meat is more commonly used.
Beyond Chicken
A big reason for fried chicken's appeal is the packaging.
"People like the whole concept of the batter and the crunch," says Neil Doherty, Senior Director of Culinary Development at Sysco. "Using the same batter, classic chicken fried steak, pork chops, turkey cutlets, fish, mushrooms and other items hit many of the same notes."
Ask your Sales Consultant about all of the Sysco Classic brand breadings that can help you create your signature fried chicken.