When diners choose to eat their holiday meal at a restaurant instead of at home, they arrive with a complicated set of expectations. They crave the comfort and familiarity of timeless dishes, eaten year after year with friends and family alike, and would be disappoint- ed if those items were completely absent. And yet, they are also seeking more: elevated, chef-driven plates made with fresh, on-trend ingredients, using sophisticated techniques. By layering flavors and adding your own creative spin, you can give diners the best of both worlds. This is true for stalwarts like turkey and ham, but it's even easier to implement with sauces, seasonings and especially sides.
Bring new zest to a Sysco Imperial Whole Tom Turkey, for example, by marinating it in a tangy citrus and cranberry brine before roasting it. And instead of serving the turkey with the usual cranberry sauce, try a relish made from tomatoes, apples and raisins. It is incredibly simple to make, and the addition of apple cider vinegar gives the sweet combination a little acidic punch. As a side, consider a butternut squash gratin. In the gratin shown on the next page, butternut squash is matched with its natural flavor partners, sage and brown butter, and then finished with a sweet and sophisticated maple gastrique.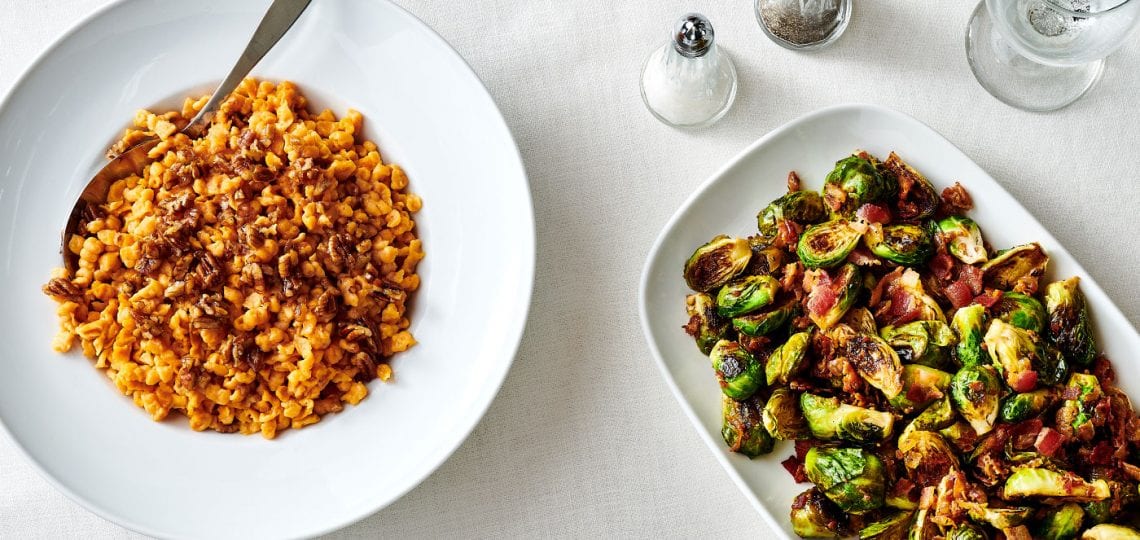 Sysco's Reliance Cooked Bone-In Ham requires little in the way of seasoning. You could just slice it and serve as is. But for extra depth, season with a sweet, spicy rub redolent of clove, ginger and nutmeg, and slice it thin for a stunning presentation As a surprising twist on the usual mashed sweet potatoes, cook up sweet potato spaetzle instead, and pair it with a sauce made with pecans and maple syrup. Your guests won't miss the mashed potatoes. Roasted Brussels sprouts tossed with smoked hazelnuts and bacon marmalade round out the meal.
At the holidays, diners are looking for something like comfort food crossed with haute cuisine. They want cooking that is familiar yet new and different at the same time. To create a successful and profitable holiday menu, stay seasonal, but tryout some fresh flavors and ingredients, too. Try using a new technique that elevates a classic dish to greater heights. Most importantly, use your imagination to put new twists on classic fall and winter holiday fare, and you won't go wrong.