On a cold day, a bowl of soup warms us from the inside out. Thick chowders rich with seafood, silky bisques with tomato or lobster, a savory pho or ramen—soup is the ultimate in comfort food. Although they can be light or hearty, soups are always satisfying, especially when paired with a favorite sandwich. Classic couplings like grilled cheese with tomato soup call out for modern reinventions, such as a grilled pimento and cheese sandwich with tasso ham, partnered with a gumbo-style chicken and vegetable soup.
The Perfect Date
When we asked seven Sysco chefs from across the country for their own original soup-and-sandwich pairings, they drew upon their backgrounds and regional cuisines, as well as their own ingenuity. Chef Nate Luce, in the heartland of Minnesota, created a silky Chicken and Wild Rice Soup with an updated BLT made with Tomato-Bacon Jam and Brussels sprout leaves. Chef Peter Ecker of Sysco Winnipeg created a Thai-style tomato and coconut bisque with crispy cheese-stuffed wontons, topped with tempura shrimp for added Asian flair.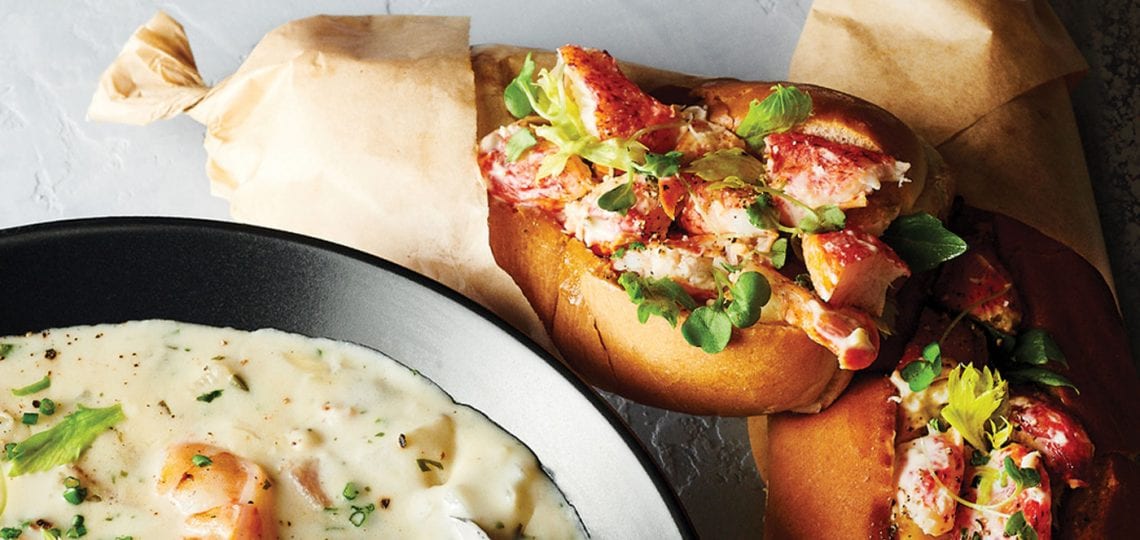 Seafood in the Mix
Soup is a winning dish in the hands of a capable chef for many reasons. For one, it is an easy way for operators to introduce more seafood onto the menu. Diners who might not normally eat fish will order a clam chowder or seafood stew. Many customers would like to add more seafood to their diet, and soup makes it accessible.
But don't hide that delicious fish, says Andrew Rivera-Myers, Culinary Consultant at Sysco Northern New England. He uses "big chunks of fish, so not only can you see the seafood, you can also taste it," he says of his New England Seafood Chowder (below). "I only lightly thicken my chowder, and I like to go bold, using heavily smoked bacon, which imparts a really nice flavor to the broth." He also uses a fair amount of freshly ground black pepper and other spices to enhance the natural taste of the fish and add a little heat in the colder months.
To go with the chowder, try classic lobster rolls made with Chef Rivera-Myers' addition of basil mayonnaise. His version uses big chunks of lobster meat, Arrezzio Basil Pesto combined with mayo, and celery leaves inside a Baker's Source Split-Top Hot Dog Bun.
69% of customers are more willing to purchase soup that's topped with high-quality garnishes. 
—Technomic
Earthy and Spicy
"The Midwest is known for cooking that's simple but also satisfying and filling," says Chris Szymanski, Culinary Specialist at Sysco East Wisconsin, who created a Sweet Potato, Beer & Cheese Bisque and Short Rib Sandwich With Red Wine Pickles. "The farmers and blue-collar workers of this area appreciate a rich, hot soup or stew after a long day."
Soup is also a great vehicle for showcasing trending ethnic flavors, such as Korean kimchi in Chef John Williams' Pork and Kimchi Stew or fresh chiles and other Latin ingredients in Chef Jennifer Kimberly's brightly colored Chicken Tortilla Soup.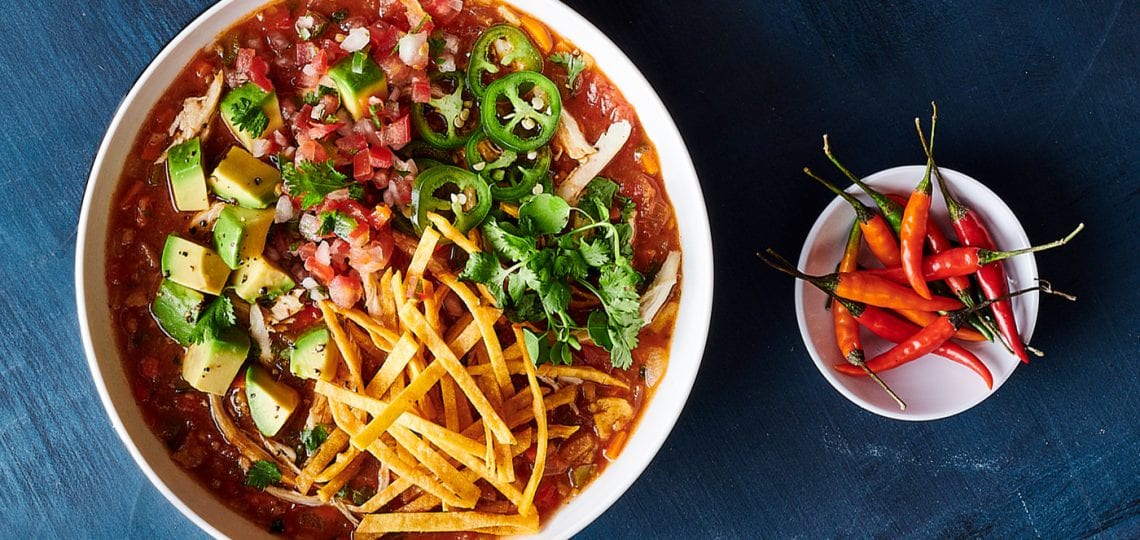 In the Soup
Chefs love soups for their versatility. You can cook them from scratch, from stock to garnish, or start with a Sysco Classic Soup Base in chicken, beef or vegetable to speed things along. Soups are a way to let colorful vegetables shine: think vibrant butternut squash and bright peas. But they are also an efficient way to use up "ugly" vegetables or vegetable scraps, saving money and avoiding food waste.
When making a rustic stew, you might leave the vegetables roughly chopped. When going for something more refined, you can use a chinois or an immersion blender to get a smooth, silky consistency. If you prefer to keep things light and healthy, lean on olive oil, with vegetables or chicken for your stock. If instead you'd prefer to serve something with full-bodied flavor, add butter or a ham hock at the base when sautéing the mirepoix. At the end, finish with Wholesome Farms Butter or Cream, or shave Arrezzio Parmesan Cheese on top for added richness. Top with a high-quality garnish such as a sprinkling of fresh herbs and homemade croutons, and you've got a delicious meal that always has a place at the table.
Soup it up!
Get Creative
Think up clever names and menu descriptions for your soups.
Provide Options
Give customers a choice of both cups and bowls to suit all appetites.
Predict the Weather
Offer a soup-and-sandwich special when the temperature drops.
Educate Your Customers
Boast about health benefits of soup ingredients like organic and non-GMO on your menu.