Nestled in the historic Jazz District in Kansas City, Missouri, sits a restaurant full of music and flavor – Soirée Steak & Oyster House. The upscale restaurant is proudly owned by Chef Anita Moore, whose modern approach to traditional Southern cuisine has made her a local culinary favorite.
A Southern Soirée
Chef Moore's journey to opening Soirée Steak & Oyster House began when she was a small child. She recalls fondly preparing meals with her grandmother for her father, who would come home for lunch after working on the Sante Fe Railroad. "We'd always do red beans and rice on Sunday while we were washing laundry and folding; that was a ritual in our house. We always gathered together and had a buffet of food [eating everything] from cow tongue to duck."
In 2013, Moore began attending Kansas City's LeCole Culinary School and later graduated at the top of her class. For the next few years, Moore made a name for herself in the Kansas City food scene, combining her love of southern comfort food with her expertise as a corporate chef. By 2017, she opened her first restaurant – Soirée New Orleans Bistro. Two years later, she opened the sister restaurant Soirée Steak & Oyster House.
Soirée is appropriately located in the 18th & Vine District, an area known for jazz music and a historic hub of African-American businesses. The spacious restaurant features a craft cocktail bar and a dedicated stage where jazz bands and vocalists serenade customers during dinner service. As Chef Moore explains, "Being down in the historic jazz district [I wanted to] highlight local talent. I want people to feel welcome like they are coming into my home, so to speak, to enjoy good food and music. Every one of my customers has been here countless times, so it's kind of like walking into a family. Everyone knows each other down here."
The menu at Soirée Steak & Oyster House reflects Chef Moore's talent and imagination to create contemporary fusion cuisine. "We take different recipes, and we elevate them," she describes. "[We mix] seafood, creole, cajun, and Southern food, but we don't stop there – we have Taco Tuesday and [even] offer oxtail enchiladas. We bring in the food that I grew up with and fuse it with other cultures. We don't just do Southern [cuisine]."
From land to sea, the menu has something for everyone. "Our number one seller is our catfish with red beans and rice," explains Moore. "We get our fish fresh every week, and our red beans and rice simmer all day. The shrimp and grits on our brunch menu are a [top] seller on the weekend." Other crowd favorites include fried green tomatoes served with roasted red pepper crawfish sauce and fresh blue cheese crumbles. The house-made spicy cocktail sauce and pickled watermelon mignonette accompanying the half-shell oysters are yet another example of why customers can't get enough of Soirée's innovative flavors.
A Partner For My Restaurant
Soiree Steaks & Oyster House has been a Sysco customer for over two years. In that time, Chef Moore has worked closely with Sysco Sales Consultant, Toni Ortiz, to ensure the long-term success of the business. "Toni is amazing," Moore proclaims. "I was [originally] with another company [before Sysco], but she won my business. I think it's her interpersonal skills and making sure that I succeed as an owner. I really feel like she is genuine and wants to make sure that we have the best products offered to us."
Chef Moore has complete confidence that Sysco is up to the task of supplying her restaurant with only the freshest ingredients, delivered on time, and meeting the high expectations of her customers. "I think that the quality of the products that [Sysco] has is amazing, she says. "I've never been disappointed. My deliveries are on time, and they always go above and beyond. To me, [Sysco] is not just a company but more of a partner for my restaurant."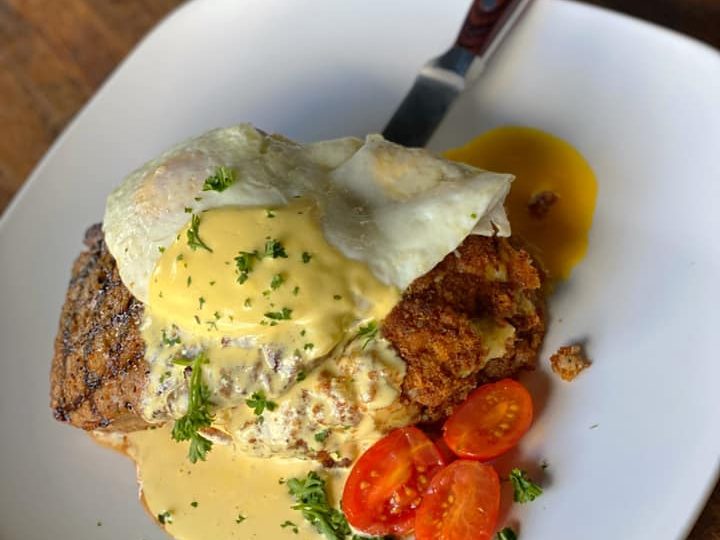 Looking forward to the year ahead, Chef Moore is excited to participate in initiatives like Black Restaurant Week (BRW) – a program that celebrates African-American, African, and Caribbean cuisine by helping consumers discover black-owned restaurants across the country. Since 2016, BRW has helped increase the visibility of black-owned food trucks, catering services, and exciting restaurants like Soiree Steak & Oyster House. "Working with Black Restaurant Week has been amazing," says Chef Moore. "To be included on a list of other black-owned restaurants across the states is very humbling. I am honored to help recognize and put black-owned restaurants and chefs on a platform."
If you're ever lucky enough to find yourself in the historic Jazz District of Kansas City, don't miss an opportunity to experience live music with soulful cuisine at Soiree.